Who we are
Our vision is to be a leading career services office within the greater Gallup communities and within our peer group of branch colleges. We strive to help students perfect their professional skills, including but not limited to business etiquette, interview skills, job hunting. We also work with employers looking for the perfect UNM-G student or graduate to fulfill their company's needs. The UNM-G Office of Career Services is located in Gurley Hall and works in close partnership with the UNM Albuquerque Career Services Office to provide all of our customers with an effective and efficient recruiting experience. Every year we work with students and alumni on evaluating what their career means to them and what their major means to them.
Do they need a Master's degree or Ph.D. and if so, we help them figure out what graduate school best suits them for this career path. We welcome you to UNM Gallup and to Student Affairs and to our Career Services Office.
---
What we offer
Our office provides professional career advisement to current UNM students, faculty and staff as well as UNM alumni and all veterans. A Career Development Facilitator (CDF) is available through appointments or walk-ins to assist students in assessing abilities, interests and values, clarifying career goals, writing a resume or cover letter, preparing for interviews, conducting a job search or preparing to attend graduate school. We also partner closely with area businesses to facilitate job shadowing and co-op agreements as well as internships.
You are going to love it here!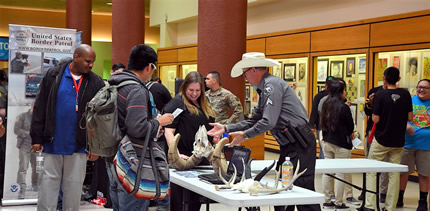 Military, Law Enforcement and Firefighters Career Fair
---
The University of New Mexico - Gallup,
705 Gurley Ave.
Gallup, NM 87301
(505) 863-7500
---
Contact
Phone: (505) 863-7706