Coronavirus (COVID-19) Update 9.23.2020
These UNM-Gallup updates are intended to keep our campus informed on developments related to the COVID-19 Coronavirus outbreak. The Chancellor's Weekly Brief will also be distributed on Fridays. For additional information, please rely on www.unm.edu/coronavirus or www.gallup.unm.edu/coronavirus
---
CHANCELLOR'S OPEN OFFICE HOUR – THURSDAY 9/24 – 4 P.M.
Please join us on Thursday, 9/24 for the Chancellor's Open Office Hour at 4 p.m. on Zoom. Instructions are posted below.
Join Zoom Meeting
https://unm.zoom.us/j/96075684458
Meeting ID: 943 6058 0984
One tap mobile
+13462487799,,96075684458# US (Houston)
+16699006833,,96075684458# US (San Jose)
Zoom Quick Start Guide:

If you have never used Zoom before, please install the client in advance of the webinar:

- For Windows and Mac Users:

https://unm.zoom.us/client/latest/ZoomInstaller.exe

- Zoom Mobile Apps:

https://itunes.apple.com/us/app/id546505307

https://play.google.com/store/apps/details?id=us.zoom.videomeetings
---
UNM-GALLUP LIMITED OPERATIONS DAILY UPDATE:
Today's COVID-19 operational status report for the UNM-Gallup campus:
We remain under our limited operations. Classes are held remotely with the exception of a few essential skill courses and labs.

Students – please be in contact with your instructor(s) via UNM Learn.

UNM-Gallup facilities are accessible by authorized Tier 1 personnel only. All other personnel should continue working remotely until further notice.
The fitness trail remains open; a face mask or covering is required while exercising. Trail equipment remains closed.
Zollinger Library: Online services, scanning, and curbside pickup is available. Request a Service here. UNM-G community members can request an appointment here.
The bookstore is offering new curbside pickup hours Monday through Thursday from 10 a.m. to 3:00 p.m. (closed for a half hour at Noon for lunch).
Daily self-reporting policy remains in effect. If you need to come to campus, please coordinate access to a building with your supervisor and campus police—and be sure to respond to the daily COVID-19 self-reporting email that all UNM-Gallup personnel receive each morning from the main campus.
COVID-19 testing is available in the Lions Hall parking lot on Tuesdays and Thursdays from 9 a.m. to 11 a.m.
Face masks are always required on campus.
---
Latest Data (9/23) from COVIDACTNOW.org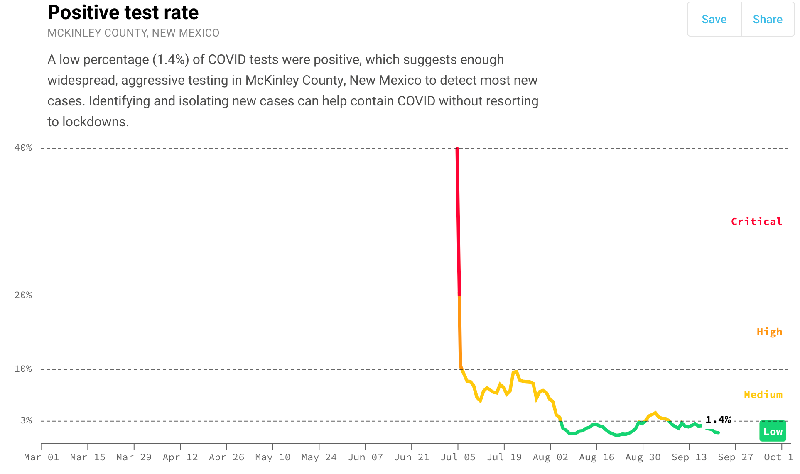 ---
Latest UNM Dashboard:

View the full dashboard here.
---
NAVAJO NATION REINSTATES STAY-AT-HOME ORDER:
The Navajo Nation is experiencing a rise in positive COVID-19 cases, including over 40 confirmed positive cases in the Sage Memorial Hospital service area and close to a dozen positive cases in the satellite chapters in the Eastern Navajo Agency. These cluster cases are a direct result of family gatherings and off-Reservation travel. They also have the potential to lead to an outbreak and another surge in cases on the Navajo Nation. The cluster cases also have the potential to overwhelm the health care system on the Navajo Nation if not mitigated immediately. As a preventive measure, a Stay at Home (Shelter in Place) Order is warranted.
The intent and purpose of this Public Health Emergency Order No. 2020-023 is to re-issue the Stay at Home (Shelter in Place) requirements, effective immediately and continuing for a period of at least 7 days, and to implement a full 57-Hour Weekend Lockdown from September 25, 2020 to September 28, 2020, starting at 8:00 P.M. MDT on Friday and ending at 5:00 A.M. MDT on Monday. Additional weekend lockdowns may follow.
You can read the full order here.
---
NEW MEXICO TRAVEL RESTRICTIONS:
The state of New Mexico has updated its list of high-risk states and travel restrictions. Colorado, Oregon, and Rhode Island have been added to the list of high-risk states. Individuals arriving from those states must quarantine for 14 days or for the duration of their stay New Mexico, whichever is shorter.
The list of high-risk states is updated every Wednesday according to the state-by-state health conditions as indicated by the rolling positivity and test rates of those states. Find the full list of states and additional travel information here: https://cv.nmhealth.org/travel-recommendations/
---
COVID TESTING AT UNMG TO CONTINUE THROUGH OCTOBER:
The New Mexico Department of Health will continue COVID-19 testing at UNM-Gallup through the month of October: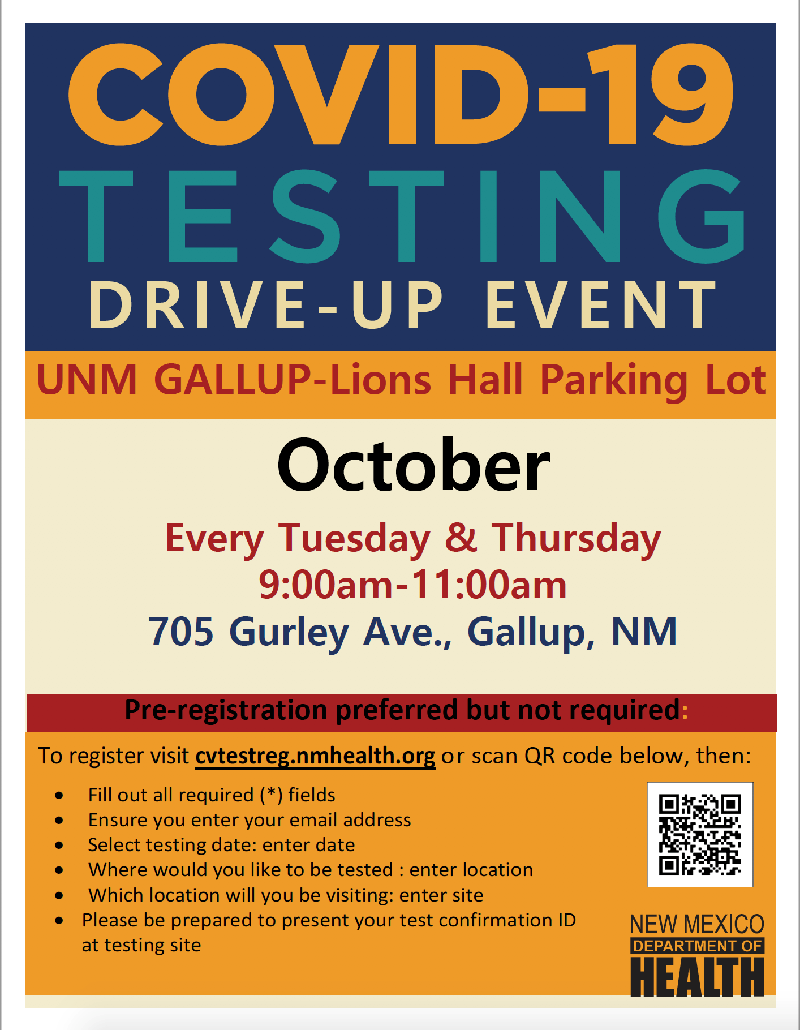 ---
CENSUS COUNTDOWN (REMINDER):
Only 8 days left to complete the #2020Census! Do your part to ensure that New Mexico receives critical federal funding for your community: for your kids' schools, for your local health center, for the roads you drive on. Head to www.my2020census.gov and get counted today! http://www.my2020census.gov
---
COVID-19 Updates
---