Coronavirus (COVID-19) Update 1.20.2021
These UNM-Gallup updates are intended to keep our campus informed on developments related to the COVID-19 Coronavirus outbreak. The Chancellor's Weekly Brief will also be distributed on Fridays. For additional information, please rely on www.unm.edu/coronavirus or www.gallup.unm.edu/coronavirus
---
CHANCELLOR'S OPEN OFFICE HOUR – FRIDAY 1/22 – 9 A.M.
Please join us on Friday, January 22nd, for the Chancellor's Open Office Hour at 9 a.m. via Zoom:
https://unm.zoom.us/j/98872566610
Meeting ID: 988 7256 6610
One tap mobile
+16699006833,,98872566610# US (San Jose) 12532158782,,98872566610# US
+(Tacoma)
Dial by your location
+1 669 900 6833 US (San Jose)
+1 253 215 8782 US (Tacoma)
+1 346 248 7799 US (Houston)
+1 646 558 8656 US (New York)
+1 301 715 8592 US (Washington D.C)
+1 312 626 6799 US (Chicago)
Meeting ID: 988 7256 6610
Zoom Quick Start Guide:

If you have never used Zoom before, please install the client in advance of the webinar:

- For Windows and Mac Users:

https://unm.zoom.us/client/latest/ZoomInstaller.exe

- Zoom Mobile Apps:

https://itunes.apple.com/us/app/id546505307

https://play.google.com/store/apps/details?id=us.zoom.videomeetings
---
UNM-GALLUP LIMITED OPERATIONS DAILY UPDATE:
Today's COVID-19 operational status report for the UNM-Gallup campus:
We remain under our limited operations.
UNM-Gallup facilities are accessible by authorized Tier 1 personnel only. All other personnel should continue working remotely until further notice.
The fitness trail is now closed through November 30th in accordance with the governor's public health order published on Nov. 13.
Daily self-reporting policy remains in effect. If you need to come to campus, please coordinate access to a building with your supervisor and campus police—and be sure to respond to the daily COVID-19 self-reporting email that all UNM-Gallup personnel receive each morning from the main campus.
You can review the UNM-Gallup Safe Return plan at www.gallup.unn.edu/safe-return
COVID-19 testing is available in the Lions Hall parking lot on Tuesdays and Thursdays from 1:30 p.m. - 2:30 p.m.
Face masks are always required on campus.
---
NM COVID-19 UPDATE:
New Mexico state health officials on Tuesday (1/19) announced 691 additional COVID-19 cases, including 32 new cases in McKinley County. There were 20 additional deaths reported yesterday with the total COVID-related deaths in the state now totaling 2,975.
McKinley County's status is currently listed as "RED" on the state's website.
You can read the full update here.
---
MCKINLEY COUNTY COVID-19 UPDATE:
The latest data (1/20) for McKinley County from www.covidactnow.org: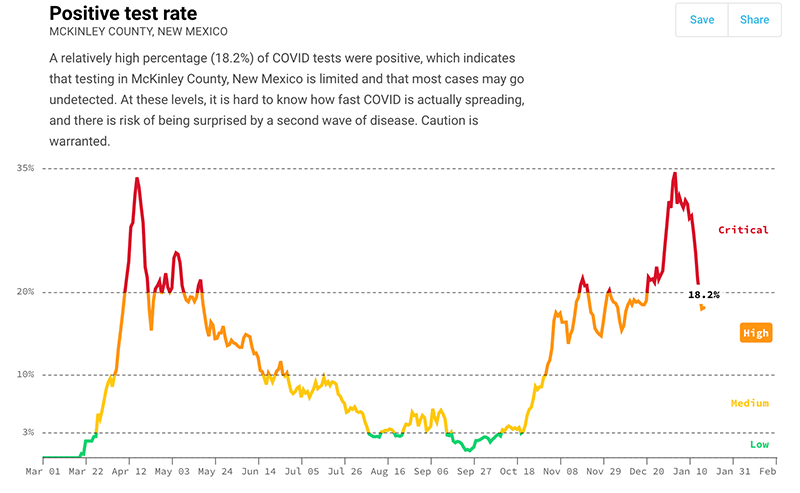 ---
GIMC VACCINE EVENT AT UNM-GALLUP THIS SATURDAY:
The Gallup Indian Medical Center (GIMC) announced today that it will conduct a COVID-19 vaccination event on Saturday, January 23, 2021, from 9:00 am to 4:00 pm. for individuals, ages 65 and over, who are residents of the Gallup Service Unit, or receive healthcare primarily at GIMC. The event will be held at the UNM-Gallup Gymnasium located at 705 Gurley Avenue in Gallup, New Mexico. A total of 600 doses will be available at the event on a first come, first served basis.
Additional details are posted here.
---
NEW UNM-GALLUP COMMITTEE ON PROGRAM INNOVATION:
The Office of the Dean of Instruction is calling for faculty, staff, administration, and students, to serve on a much-needed Ad Hoc Committee on Academic and Organizational Innovation for Academic Affairs. This committee will adopt a two-pronged approach to finding new, high quality, highly relevant programs to offer our students and also to inquire into the adequacy and effectiveness of the organizational structure of Academic Affairs.
---
ZOLLINGER LIBRARY UPDATE (REMINDER):
The Zollinger Library is offering curbside pickup of print materials and Wi-Fi hotspots between the hours of 10 a.m. and 2 p.m., Monday through Friday. Pick-up request forms and Faculty Scanning Request forms can be found at Request a Service :: UNM Gallup | The University of New Mexico
Student requests for an online or telephone conference with a research librarian can be requested by emailing: Zollingerlibservices@unm.edu or fiskj@unm.edu
---
COVID-19 VACCINE PRE-REGISTRATION (REMINDER):
The New Mexico Department of Health is leading the State of New Mexico's COVID-19 vaccination preparedness planning in close collaboration with other state agencies and partners throughout the state. Registering for the COVID-19 vaccine is easy! Follow the process and NMDOH will notify you when the vaccine is available in your community. Register at vaccinenm.org today!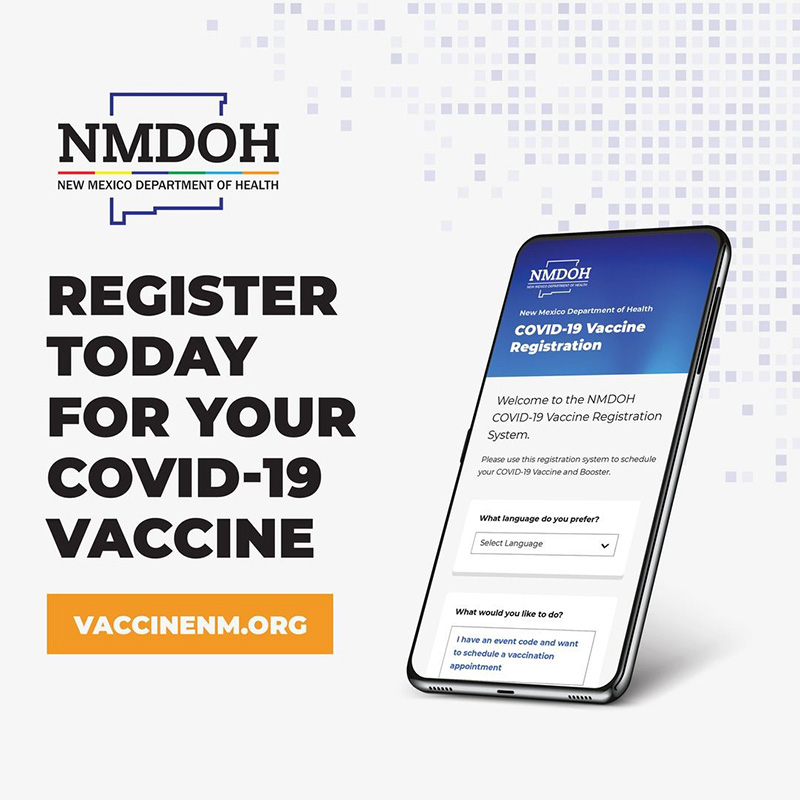 ---
COVID-19 Updates
---