Hybrid Spring Semester
As a gathering space for students, personnel, and our community, UNM-Gallup plays an important role in the mitigation of the COVID-19 coronavirus now and into the future. We recognize that our facilities and spaces for learning are critical to our local, regional, and state economy—but we also recognize our responsibility to minimize the impact of COVID-19 to ensure that our entire community can reopen in a safe and timely manner over the next several months and until a vaccine is available.
UNM-Gallup continues to collaborate with the UNM main campus to assess our plans and adjust protocols to respond to available data and public health orders. Our overarching goal is to continue our mission, ensure student success, and protect the health and safety of our campus community. As we moved out of 2020, we are at the beginning of our hybrid spring semester where we are providing a mix of remote classes and in-person instruction to a select few courses.
Although we are operating under limited operations—still within our three-tiered system—strict COVID-19 safety and cleaning practices have been implemented throughout campus. Events and gatherings are currently postponed. Large gatherings—absent a vaccine—will likely be postponed or held virtually through the spring semester.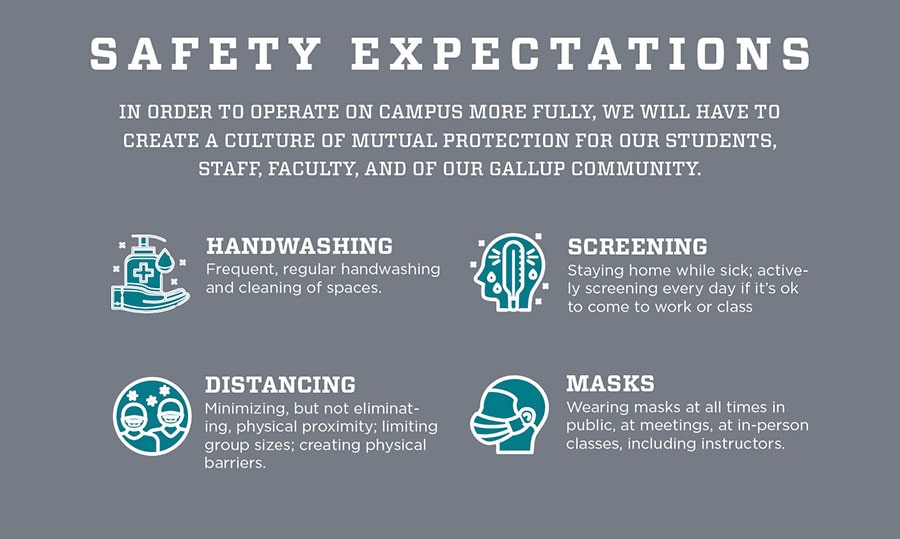 ENSURING A SAFE RETURN DEPENDS ON ALL OF US MITIGATING VIRUS SPREAD.
The goal of our actions—individual and collective—is to reduce and minimize transmission so that isolated cases do not become wide-spread infections.
Stay home when experiencing COVID-19 symptoms (cough, fever, shortness of breath) or if you have been exposed to the virus.
Follow UNM's self-reporting requirements
Promote and maintain a safe social distance in all work/common areas.
Wear a cloth face covering or mask when in common and shared areas.
Wash hands regularly and cover coughs or sneezes with tissue or your arm. Use hand sanitizer when hand washing is not possible, but hand washing with soap and water is most effective.
Take ownership of your workspaces, and clean personal and shared surfaces regularly with effective cleaning supplies.
Reduce the proximity or density of employees who are required to come to campus, especially in open/crowded work areas; all employees who can do their job effectively through telecommuting should continue to do so.
Work with your supervisor to telecommute if possible or review available leave if you are unable to telecommute.
Recognizing that building a culture of mutual protection represents a challenge in this stressful environment, UNM has centralized access to mental health resources at mentalhealth.unm.edu. A true culture of health supports students, staff, and faculty in seeking care and well-being. Remember that UNM has wellness resources available to support our com-munity during these difficult times.