For Instructors with ARC Students in Class
ARC Student Test-taking:
To the greatest extent possible, please have your class available in UNM Learn or another UNM sponsored format. It will help ARC provide the required classroom accommodations for ARC students.
Ask IT to add approved ARC readers/scribes to your Learn Module using the "student" role in LEARN.
Also, if need be, the "student role" can allow the instructor to use the "Performance Dashboard" in the Evaluation section to manage a student's access (access to modules closed to other students).
Adding ARC readers as a "student" gives them the same access in LEARN as the enrolled student who needs ARC assistance.
Also, adding a reader as a "student" does not violate any policies or compromise other students' privacy.
This will give ARC access to all the materials (except the textbook) that the ARC student sees. This allows ARC to serve as Readers and scribes. It does not violate policy or FERPA.
This option (rather than "grader") is also used for peer-evaluations between faculty peers and between chairs and faculty because it does not violate policy.
Please enable ALLY TOOL for all Readings in Learn and all tests. This way, any of your students may find the MP3-Audible option in the pull-down menu. The reading and the test can be read audibly to the student.
Please take a look at the following short video that provides a description of ALLY TOOL's capabilities for all students
For your low-vision students:
Our ARC Study room has new equipment for not only enlarging text, but also for audibly reading the text for the students who benefit from auditory learning. Some of that equipment is portable, and can be signed out by an ARC student enrolled in our program. Please take time to privately remind those students to email ARC if they require some of the portable reading equipment. ARC will try to make arrangements to get that equipment to the student.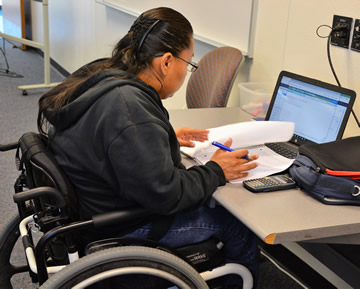 UNM-Gallup student
---
Resources
Test Instructions for ARC staff proctors
When can ARC students take their tests?
What are classroom accommodations?
Exhibit A from UNM Policy 2310
Faculty Syllabus Statement
Disruptive and Disturbing Behavior
Reasonable Accommodation
Contact
505-863-7527
Gurley Hall Room 1127
---
Fall 2022 hours
Walk-in services
Monday – Thursday
11AM – 5 PM
Fridays
12PM – 4PM