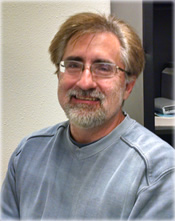 Thomas M. Kaus
Associate Professor
---
---
I grew up and graduated high school in Dunkirk, New York, a small city in the western part of New York.
I went on to college but dropped out to join the army. After spending four years in the military (Gulf War Veteran) I was honorably discharged in 1992.
I was able to continue my education while stationed at Fort Carson and graduated from the University of Colorado in 1992. In that same year I became a volunteer in the Peace Corps and taught for three and one half years in Ghana.
Upon my return from Africa in 1996 I came out to New Mexico. I began a master's program and started teaching at Gallup High School. I was also a part time faculty member here until 2003 when I was hired as a full time faculty member.
I love my family, teaching, and of course MATH!!
MA: Secondary Education, University of New Mexico, Albuquerque.
BA: Mathematics and Psychology, University of Colorado, Colorado Springs.
Co-ordinator of UNMG Math
MATH 099
MATH 106
MATH 111
MATH 112
MATH 113
MATH 120