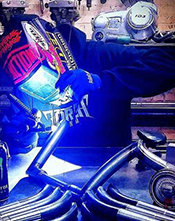 Casey Tom
Visiting Lecturer
---
---
The Outdoors, Motorcycle Enthusiast, Metal Fabrication, Welding, Arts.
Certified Harley Davidson Technician, Certified Yamaha YAMAPRO Technician, Motorcycle Mechanics Institute, 2009 Phoenix, Arizona.
Associates Degree Welding Technology , University of New Mexico 2013.
WLDT 105-460 Arc Welding I
WLDT 141-400 MIG & TIG Welding
WLDT 120-400 General Welding Applications
WLDT 112-400 Gas Metal Arc Welding
While working for Torch Industries, we collaborated with the Wounded Warrior Project and created a 8 week course. A Intro to Welding and Fabrication class. Where we would volunteer our time and teach wounded warrior veterans how to use a MIG welder, a TIG welder and basic metal fabrication techniques.
Adjunct Lecture for 2 Semesters, 5 course at UNM Gallup, Arc Welding I, General Welding Applications, Gas Metal Arc Welding, MIG & TIG Welding.
2012 - "Welding and Metal Fabrication" by Larry Jeffus
2010 - New Mexico Educators Award, for service as an Experiential Educator, at The National Indian Youth Leadership Project.