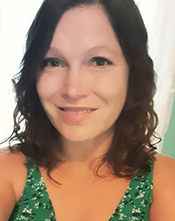 Carolyn Kuchera
Associate Professor
---
---
I like the following a good deal: good coffee, dark chocolate, Scrabble, cribbage, reading, saunas, hikes, bike rides, music, camping, crosswords, sewing, cooking, microbrews, porches, trains, and hot springs.
My research interests involve American literary depictions of farmers and rural types, especially from the late nineteenth and early twentieth century. I'm interested in the trope of vanishing as it relates to farmers and agricultural practices and in the nostalgia evoked by such disappearances. I'm currently studying a little-known Midwest regionalist John T. Frederick (1893-1975)-- farmer, author, professor, Federal Writer's Project regional director, and radio personality--as an example of the radical possibilities of the agrarian tradition.
PhD, University of New Mexico, 2011, English
MA, Portland State University, 2006, English
BA, Minnesota State University-Moorhead, 2001, English
English 100: Integrated Reading & Writing
English 110: Accelerated Composition, English
English 120: Analysis & Argument
English 150: Study of Literature
5 years teaching composition and literature at UNM-Albuquerque, 1 year teaching composition at Central New Mexico Community College, and currently in my seventh year teaching composition at UNM-Gallup.
Kuchera, Carolyn. "Manifest Destiny." In Oxford Bibliographies in American Literature. Eds. Jackson Bryer, Richard Kopley, and Paul Lauter. New York: Oxford University Press, 2016.
"A Recovered Interview with W.D. Howells." American Literary Realism 44.1 (Fall 2011): 74-79.
"Broken Spokes: Cultural and Commercial Transit in the Indigenous Hub of Gallup, NM." Western Literature Association Annual Conference. St. Louis, MO, October 2018.
"Farming on the Margins: Interpreting Agricultural Borderlands." American Literature Association Symposium on Frontiers and Borders in American Literature. San Antonio, TX, February 2016.
"American Rhythms: Composing Local and National Identity through Music Criticism in the WPA State Guides." Western Literature Association Annual Conference. Victoria, British Columbia, November 2014.
"Abandoned Farmhouses and Burnt Teepees: Hamlin Garland's Tangled Sympathies." MLA Annual Convention. Chicago, IL, January 2014.
"Labor(ed) Decisions in Two American Farm Novels from the 1920s." American Literature Association Annual Conference. Boston, MA, May 2013.
"The Rhetorical Origins of the American Farmer" North Carolina State University. "Manifest Identity: Graduate Student Symposium." Raleigh, NC, February 2011.
"American Primitives." Northern Arizona University. "Intellectual Intersections: A Multidisciplinary Graduate Student Conference." Flagstaff, AZ, February 2011.
"American Primitives." University of Georgia. "Wild Things Conference." Athens, GA, November 2010.
"American Primitives." Rocky Mountain Modern Language Association Annual Convention. Albuquerque, NM, October 2010.
"Through Dread and Beyond in Great Expectations." Western Conference on British Studies. San Antonio, TX, September 2008.
"(Un)Framing the Nation: Sara Orne Jewett's The Country of the Pointed Firs." Southwest Symposium. Albuquerque, NM, March 2008.