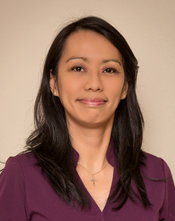 I have always enjoyed reading and have rediscovered my love for it as I read to and with my kids (from Eric Carle to J.K. Rowling). I love to cook and have ventured from my comfort zone of Asian foods to New Mexican cuisine. I'm not really the sports type but there is one sport that I very much like and that is swimming.
MSN, University of New Mexico, 2014, Nursing Education
BSN, University of San Carlos, Cebu City, Philippines, 1999
NURS 204L Principles of Nursing Practice
Taught HCNA 101/101L (Nursing Assistant) PT for three semesters and currently in my first semester of teaching FT in the nursing program.
Prior to joining UNM, worked as the board-approved nursing educator for a hemodialysis technician program for 4 years where I was responsible for staff development and patient education.
2014 - Sigma Theta Tau International Honor Society of Nursing
2014- Golden Key International Honour Society
2014 - Phi Kappa Phi Honor Society
2007 - Employee of the Month, Rehoboth McKinley Christian Health Care Services
1999 - 7th place in the Philippine Nurse Licensure Examination given in May 1999
1999- Magna Cum Laude, University of San Carlos
1999 - Outstanding Graduate Award, University of San Carlos
1999 - Outstanding Performance in Related Learning Experience in both Hospital and Community Work, University of San Carlos
1999 - Uliran Award for having brought distinct honor and prestige to the college by exemplary achievement in both academic and co-curricular activities serving as role model worthy of emulation, University of San Carlos