Charles Aguirre
Student Body President
University of New Mexico-Gallup Campus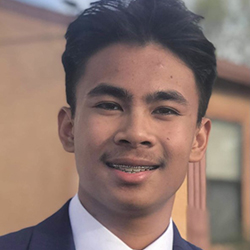 Charles Aguirre is the current Student Body President of UNM-Gallup Student Senate. He has been with he senate for three years and is passionate in developing positive relationships with staff and students to make the most enjoyable college experience. He is a dual-credit student on the path of nursing and is minoring in business. He is very active in campus activity is an active advocate for the students and staff on behalf of their experiences. He ahs given the UNM-Commencement speech and worked directly with professors in various research projects. He is a social, determined and outgoing individual here to represent our students.
Conference Topic:
Students' issues resulting from pandemic and post pandemic
Description:
The pandemic has forever changed the way we live and go on with our lives. This statement is especially true for our students. The burden and affects of the pandemic is still felt to this day. As a student myself, I experienced the hardships of the of the pandemic from both an academic and personal level. I felt the burden of being alone and constantly stressed in anew remote learning environment along with eh realities of the pandemic outside of my school life. It was a challenge at the time that felt to be an enormous obstacle. From long nights of schoolwork, days and months of isolation, and even unbearable stories, are only some of the issues that this pandemic brought to our students. Student senate activities had to be halted and we all lost a part of ourselves. I know that many more people have their own hardships form the pandemic. We al felt as if it was never going to get better. Myself and many other students still feel the aftereffects on our mental health due to the pandemic. However, we are still here. I am able to write this little blurb on my issues of the pandemic and smile that we got through it. In my commencement speech, I was able to thank many individuals who graduated and even experienced the pandemic firsthand. Each student of our campus shows resiliency and is a beacon of hope to keep on striving. My message is to always keep going forward no matter the issues we face. We are always in this together.
Other Speaker on this presentation: