Dominic Cappello
Co-Directors, Anna, Age Eight Institute
New Mexico State University, Cooperative Extension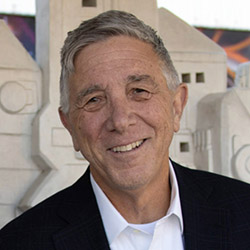 Dominic Cappello is a New York Times bestselling author and TEDx Conference curator with decades of experience advocating for health, safety and education. He has a Master of Arts in Liberal studies with an emphasis on Language and Communication from Regis University. He worked for the New Mexico Department of Health Epidemiology and Response Division and the New Mexico Child Protective Services Research, Assessment and Data Bureau, where he co-developed the Data Leader for Child Welfare program, which he implemented in New York City, Connecticut and New Mexico. Cappello is the creator of the Ten Talks book series on family safety that gained a national audience when he discussed his work on the Oprah Winfrey Show.
Conference Topic:
Trauma Impact on faculty, students, individuals, communities, institutions
Description:
This presentation will provide an overview of the 100% New Mexico initiative, a program of NMSU, designed to support county stakeholders in addressing adverse childhood experiences (ACEs), family trauma, social adversity in the form of barriers to vital services, historical trauma, historical service disparities, racism, classism and discrimination. The initiative is a county-based, data-driven and technology-empowered process that builds the capacity of each county to ensure that 100% of residents have access to the ten vital services for surviving and thriving that include medical care, mental health care, food security programs, housing security programs, transportation, parent supports, early childhood learning, fully-resourced community schools, youth mentor programs and job training. The presentation will provide participants with the collective vision, goals, activities, data-analysis process, research and framework for change that informs the initiative, currently in development in ten counties across New Mexico.
Other Speaker on this presentation: