Gregory Smith, M.A.
Director Vice President for Law Enforcement Education
The Center for American and International Law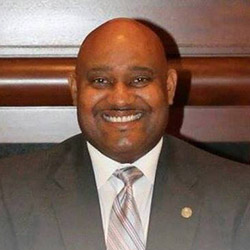 As Vice President for Law Enforcement Education and Director of the Institute for Law Enforcement Administration (ILEA), Mr. Smith is responsible for the overall management, operations and curriculum development. He provides general oversight of the Schools of Leadership, Center for Law Enforcement Ethics and the Law Enforcement Technical Assistance Program. He assures program quality and organizational/educational stability through development and implementation of standards and controls, systems and procedures, and regular evaluation
The ILEA is one of the nation's premier learning centers for law enforcement executives, managers and supervisors. For more than fifty years, the Institute has worked to prepare course participants for today's challenging management and ethical issues. Its programs and services focus on adapting successful private-sector models to set a standard of excellence for law enforcement.
Prior to his appoint as Director, Gregory served the ILEA for more than 17 years. He promoted to the rank of Associate Director and was the administrator of School of Executive Leadership, the Schools of Police Supervision and Diversity Education Programs. He is also responsible for developing and conducting in-service police training programs for multiple agencies throughout the United States and Canada.
From 1990-1999, Mr. Smith served as a Texas Peace Officer with the Baylor University-Medical Police Department in Dallas, Texas. He served in Patrol and managed the Crime Prevention and Community Services Section. He was instrumental in establishing numerous programs designed to reduce crime, prevent workplace violence and mediate workplace and community disputes for the Baylor Health Care System.
Gregory served more than 21 years with the United States Army and the United States Army Reserve. His military career began with his enlistment into the Indiana National Guard in 1981, where he served as a Cavalry Scout and Military Police Officer. During his career he progressed in ranks from Private to Major, and has held numerous positions in the Infantry Corps at Company, Battalion, Brigade and Theater levels.
In the area of professional development, Mr. Smith has coauthored a book on diversity communication, Navigating Diversity: An Advocates Guide Through the Maze of Race, Gender, Religion and More. He is also a Qualified Administer of the Myers-Briggs Type Indicator (M.B.T.I.), and a National Training Associate with the Insight Learning Foundation. In his hometown, Mr. Smith has served on the City of Arlington=s Youth and Families Board; the Arlington Independent School District=s Financial Review Committee; and is currently an active football coach, basketball referee and Central Branch Advisory Board Member with the YMCA. Mr. Smith is a graduate of the 53rd School of Police Supervision of the Southwestern Law Enforcement Institute and the Leadership in Police Organizations Course, sponsored by the International Association of Chiefs of Police. Gregory holds a Bachelor of Science degree in Sociology from Ball State University in Muncie, Indiana, with Minors in Multi-Cultural Education and Military Science. He also holds a Master of Arts degree in Sociology, (specializing in Social Psychology) from the University of Texas at Arlington.
Conference Topic:
This talk will examine the Intersection Between Ethics and Diversity
Description:
Against the backdrop of leadership and morality this talk will examine the interception between Ethics and Diversity. Through a law enforcement prism often these two subjects are approached separately and seen as distinctive. This talk will attempt to explain why this approach to both Ethics and Diversity has failed us. The Institute for Law Enforcement Administration believes in a more combined approach to education in this regard in attempt to encourage the discussion and implantation of principles from both concepts to improve leadership, guidance and influence to effect greater change.