Julia Wai-Yin So, PhD
Associate Professor, Sociology
University of New Mexico-Valencia Campus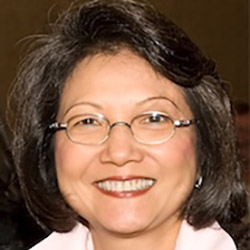 Julia Wai-Yin So is Associate Professor of Sociology and Chair of the Division of Social Sciences at the Valencia Campus of the University of New Mexico.
A native of Hong Kong, Julia lived in Japan and Ecuador before settling down in the U.S. in 1980. While in Dallas, she was director of the Rising Star Scholarship Program – a $30-million privately-funded and nationally-recognized scholarship program – for the Dallas College (previously known as the Dallas County Community College District) in Texas. Being a non-native English speaker and bringing her experience of an adult immigrant, Julia practices inclusivity inside and outside of her classroom. She also consults on and evaluates diversity and inclusion programs. Julia holds a PH.D. in Public Policy and Political Economy from the University of Texas at Dallas and an M.A. in Sociology from the University of Texas at Arlington.
Conference Topic:
Words have meaning and consequences
Title:
Stereotyping Students and Students Stereotyping
Description:
A stereotype, either positive or negative, is an erroneous generalization of a social group. It is a preconceived idea that attributes certain characteristics to all members of a social group; while at the same time, does not take into account of individual differences. In this session, we will discuss the two forms and two sources of stereotype, explore the impacts of stereotypes on a student and demonstrate how an instructor can intervene and help students to nurture their friendship.
Other Speakers on this presentation: