Melissa Johnson
Director, Diversity, Equity & Inclusion
Clovis Community College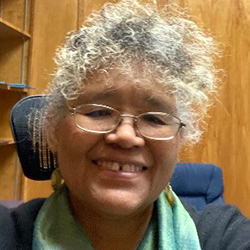 I joined Clovis Community College as the new, first Director of Diversity, Equity & Inclusion (DEI) as o f August 2021.
I am relatively new to New Mexico, having just moved here in 2018. My previous job was as the Director of a Title V grant at Eastern New Mexico University (ENMU) in Portales.
I have a varied Educational background. Both my undergraduate and my graduate degrees all come from the University of Arizona (UA) in Tucson. While I was in my master's program, I started working at the Office of Minority Student Affairs (OMSA) at U of A. This led to a passion for equity in higher education and to my doctoral program. I have a PhD. In Higher Education, with an emphasis on Multiculturalism and Organizational Change, from the Center for the Study of Higher Education, from the University of Arizona.
Previously, I have worked at the Cross- Cultural Center at the University of California in Davis, California and as the Director of Student Support Services (TRiO) at the University of Hawaii in Hilo, Hawaii.
I have presented my work on diversity at NASPA, AERA, and ASHE conferences, including being a key-note respondent with Estela Mara Bensimon.
Conference Topic:
The relationship between Diversity, HR, and Institutional Research
Description:
The panel will discuss the relationship between Institutional Research (statistical data), Diversity (relationship), and Human Resources (who we hire) in setting and establishing campus cultural. The three area work jointly in practices as predictors in campus/organizational culture.
While discrimination (can result in the hiring process) and diversity are very different concepts, it is often educational to discuss them together, because when people recognize each other's diversity, this can result in bias, stereotyping, and discrimination in hiring and the organizational culture. Institutional research shows how well we are doing through the assimilation and distribution of information helpful in establishing institution-wide goals.
The presentation is mutually beneficial and works together to support the institution's diversity initiatives. Institutional cultural is impacted by who we bring into our institutions/agencies, through outreach, recruitment, hiring and retention.
Other Speakers on this presentation: