Perphelia Fowler
HR Director
Navajo Nation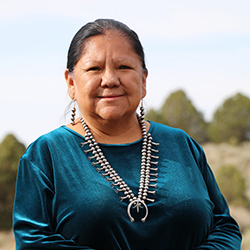 Dr. Perphelia Fowler, a fluent Navajo speaker, serves as the Division Director for the Division of Human Resources for the Navajo Nation under the Nez-Lizer Administration. Dr. Fowler has extensive human resources expertise and before joining the Navajo Nation she served as the Human Resource Director at Navajo Technical University in Crownpoint, New Mexico. Previously, she served in various human resources positions with the Red Mesa Unified School District and Diné College.
She earned her Doctorate Degree in Educational Leadership for Change from the Fielding Graduate University in Santa Barbara, California. She also earned her master's degree and bachelor's degree in Business Administration with the emphasis in Human Resources Management from American Inter-Continental University in Hoffman Estates, IL.
The Relationship Between Diversity, Institutional Research, and Human Resources 
Description:
The panel will discuss the relationship between Institutional Research (statistical data), Diversity (relationship), and Human Resources (who we hire) in setting and establishing campus cultural. The three area work jointly in practices as predictors in campus/organizational culture.
While discrimination (can result in the hiring process) and diversity are very different concepts, it is often educational to discuss them together, because when people recognize each other's diversity, this can result in bias, stereotyping, and discrimination in hiring and the organizational culture. Institutional research shows how well we are doing through the assimilation and distribution of information helpful in establishing institution-wide goals.
The presentation is mutually beneficial and works together to support the institution's diversity initiatives. Institutional cultural is impacted by who we bring into our institutions/agencies, through outreach, recruitment, hiring and retention.
Other Speakers on this presentation: