Rebecca Maldonado Moore, PhD, LMSW
Professor
New Mexico Highlands University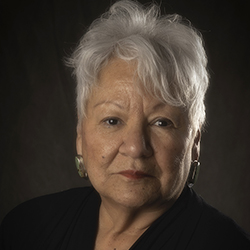 Dr. Maldonado Moore received her Master of Social Work degree from the University of Utah with a community organization concentration. She was awarded her PhD (2002) from Cornell University's College of Human Ecology with a concentration in Planning & Evaluation, and minors in Cultural Anthropology and American Indian Studies. She has more than 20 years of practice experience in community-based development and has been teaching graduate and undergraduate courses in accredited social work programs for more than 15 years. 
Dr. Moore is also a licensed master of social work (LMSW) with an emphasis in macro practice addressing community health prevention and intervention programs and social change processes.
Her research interests include strategic planning and evaluation; cultural competency; diversity, equity and inclusion initiatives; interprofessional education; and, community health care. These interests have contributed to her developing special interest courses in substance misuse treatment, community-based research, and crisis intervention courses. 
Currently, she is engaged in the development of new curriculum and initiatives to support equity and inclusion across campus units at a liberal arts college in the southwest region of the United States. She serves as the co-chair for the President's Council on Diversity, Equity, & Inclusion where she oversees the implementation of its strategic goals. Finally, Dr. Maldonado Moore is a commissioner on the national Council on Social Work Education Commission on Diversity and Social and Economic Justice.
Conference Topic:
Strategic Planning for Community Engagement and Incorporating Local Funds of Knowledge
Description:
The presentation will frame an "Engaged Scholarship" model for faculty members to be more directly articulated with local community needs, assets and knowledge for instruction, research and service. This direction includes many place-based education strategies. Many university systems are adopting "Engaged Scholarship" as accepted criteria for Promotion and Tenure.
Other Speakers on this presentation: