Shiv Desai
Associate Professor
University of New Mexico-Main Campus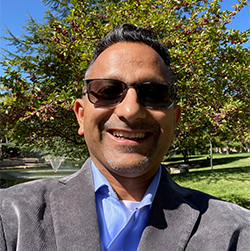 Shiv R. Desai, Ph.D., is an Associate Professor in Teacher Education, Education Leadership, and Policy Department at the University of New Mexico (UNM). He is currently working with the Albuquerque Public Schools (APS)-UNM Ethnic Studies Education and Health Research Practice Partnership to study the challenges and successes of implementing Ethnic Studies in APS and how Ethnic Studies teachers promote healing and wellness. Dr. Desai's other research area focuses on a Youth Participatory Action Research (YPAR) project with LOUD (Leaders Organizing 2 Unite & Decriminalize). LOUD members-- made up of allies, formerly incarcerated youth, and youth on probation--used YPAR to inform new policies to shape a more humanizing juvenile justice system. Dr. Desai's research draws upon critical race theory, critical literacy, and decolonizing/Indigenous methodologies. 
Dr. Desai was awarded the prestigious NAEd/Spencer Postdoctoral Fellowship in 2015, which supported his research in LOUD and examined key issues impacting the juvenile justice system.  He also received the American Educational Research Association Early Career Award from Grassroots, Community Organization and Youth Activism Special Interest Group (SIG) in 2017.  Dr. Desai was recently nominated for the UNM's New Teacher of the Year Award.  Thus, Dr. Desai's scholarship, teaching and service has been widely recognized for its advancement of social justice, equity, and critical education.  
Dr. Desai has published in Teachers College Record, Critical Studies in Education, Equity & Excellence in Education, Urban Education, Urban Review, Multicultural Perspectives, and Education and Urban Society. He has also published several book chapters, and has given numerous presentations at several international conferences on his scholarship. Dr. Desai grew up in Hudson County, New Jersey (right across New York), and was a K-12 teacher in South Los Angeles for several years.  
Conference Topic:
Diversifying the Curriculum/conversation
Description:
A Workshop Presentation: Are you interested in establishing a university wide/collegewide "U.S. & Global Diversity & Inclusion" undergraduate requirement at your 2-year or 4-year institution of higher education in NM? This interactive workshop will discuss the challenges and possibilities of creating a diversity, equity and inclusion requirement at your institution. We will share the process at the University of New Mexico. For more information and for materials such as the syllabi checklist with learning outcomes, please visit: diverse.unm.edu and click "U.S. & Global Diversity & Inclusion Requirement.
Other Speaker on this presentation: