sj Miller, Ph.D
Associate Professor of Teacher Education
Santa Fe Community College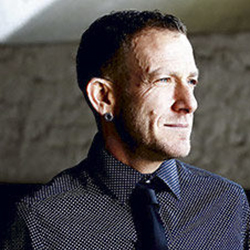 Dr. sj Miller, a trans* + disciplinary award-winning teacher, writer, activist, and scholar, is a professor in the Teacher Academy at the Santa Fe Community College and Adjunct Associate Faculty in the Ed.D. program in Educational Leadership and Learning in Organizations at Vanderbilt University. sj is a literacy specialist whose emphasis is on social justice and gender identity in pre-K through university level teaching. Over the past 18 years, sj has worked in different contexts with both undergraduate and graduate students and served in different capacities in University-based Teacher Education Programs. sj has written over thirty book chapters, over fifty articles, 8 books, including Teaching, Affirming, and Recognizing Trans and Gender Creative Youth: A Queer Literacy Framework, which was translated into Spanish by UNESCO and awarded the 2017 AERA Exemplary Research Award for Outstanding Book and the 2018 Outstanding Book by the Michigan Council of Teachers of English. sj is editor of the book series, Spaces In-between: Beyond Binary Gender Identities and Sexualities (Teachers College Press) and co-editor of the series Social Justice Across Contexts in Education (Peter Lang). sj gives keynotes across the world and consults on professional development for teaching, affirming, and recognizing trans*+ and gender creative/expansive students. This past April 2019, sj received the AERA Distinguished Contributions to Gender Equity in Education Research Award. sj's latest books include about Gender Identity Justice in Schools and Communities and the co-written book Navigating trans*+ and complex gender identities is forthcoming. sj recently presented at the TEDMED Conference on Gender Identity Justice.
Conference Topic:
Understanding and addressing how the National Political Climate for LGBTQIA+ folx directly impacts New Mexico's students, faculty and staff.
Description:
With the current shift in the Presidency, laws that once protected, and still protect LGBTQIA+ folx have once again been taken into question. These laws which are vulnerable to shifting political climates result as uncertain, mercurial, and at times, frightening. This presentation will highlight how the National landscape directly impacts New Mexico's LGBTQIA+ students, faculty and staff in our post-secondary college system. Together, we will discuss emerging nomenclature, discuss how institutions can better meet the needs of these populations, and consider how to sustain this work over time.