Boyce Russell
Assistant Director
"Russell died June 7, 2016.
Boyce spent his early years in Artesia, where he graduated from high school. He obtained a Bachelor's Degree from Eastern New Mexico University and a master's Degree from New Mexico State University. He loved sports and played both football and baseball in college. Later in life, he enjoyed golf and fishing. He spent 15 years in public education as a teacher and coach in Elida, Alamogordo, and Las Cruces. He spent 25 years in Gallup,and served as assistant director of The University of New Mexico-Gallup campus. His passion was bringing higher education to the people of Gallup, Zuni, and surrounding areas. Russell was a good and gentle man as a protector and provider for the family he loved unconditionally. He will be greatly missed by his family and friends.
Boyce is survived by his wife, Noma Russell; daughter Robin Russell, of Albuquerque; son Ron Russell, of Creede, Colorado; son Rockne Russell, of Weatherford, Oklahoma; brothers Marvin Russell of Roswell, and Charles Russell, of San Marcos, Texas; two grandchildren and four great-grandchildren. He was preceded in death by his mother Fay Russell, stepfather R.N. Russell and sister Juanita Goodlett.
Gifts in Russell's memory may be made to Special Olympics of New Mexico, http://www.sonm.org "
Text taken from The Independent Newspaper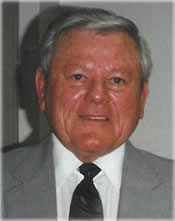 Boyce Russel