Lindsey Lee Comer
Bookstore
1952-2020
Eulogy
Lindsey Lee Comer was born March 26, 1952 in Corsicana, Texas to Jack and Betty Comer. He was the youngest of three boys Derwin Comer being the oldest and Bernie being the middle brother.
Childhood – Lindsey's childhood was a bit different than most. His family moved around quite often as his dad Jack Comer was a preacher and followed where the Lord led. They lived in Texas, Louisiana, Oklahoma, then came to Gallup in 1964
Childhood memories – One of Lin's fondest memories of his childhood (besides all the crazy stories he and his two brothers shared) was his memory of attending school in a 2 room school house in Fisher Louisiana. He loved riding the train by himself to visit his beloved Grandmother and loved learning how to cook for himself. He loved to tell of the many adventures or misadventures that he and his brothers would get into, often these adventures lead to his oldest brother, Derwin, rescuing him from Bernie.
When his family moved to Gallup in 1964 his dad was the preacher of the Gallup Indian Baptist church. It was here where Lin's love and dedication to working for the Lord grew. He taught Sunday school, and would often work with his dad, who by then was a missionary with the Baptist convention of NM, in putting up revival tents all over the Navajo reservation. Leading the music in services and as he grew up, working with the youth and the summer mission groups that would come out for their summer mission trips. He spent his summers during his junior and senior year at the Inlow Baptist Camp as a summer worker.
It was during his time in Gallup that he met the love of his life, who just happened to be the girl across the street and the landlord's daughter, Barbara Cresto. They began dating when Lin was a junior in high school.
Lin always loved sports. He was a wrestler and played football in junior high and some in high school. There are some funny stories he used to tell about his wrestling days…let's just say don't drink too much water to make weight and then wrestle right after.
But Lin's real passion was singing. He was a member of the All State Choir his sophomore, junior and senior year. He loved to sing, and singing not only brough him joy but brought those that heard his songs joy as well
Lin graduated from GHS in 1970 and attended Wayland Baptist College in Plainview, Tx (nicknamed wedding bells college) where he used to swear that he majored in ping pong.
While on winter break in the middle of his third year of college he married Barbara Cresto on January 12, 1973 in Gallup, NM. They both moved to Plainview, and attended Wayland for another year and a half. He was a music and youth director at Emmanuel Baptist Church as well as the janitor of the church and a school bus driver.
His call to music and youth took him from his church in Plainview to Chillicothe, TX (one stop light town) to Wichita Falls, TX, to Farmington, NM, to Portales, NM. The Lord blessed his work at each of these churches, years after he left the ministry several of the young people he worked with at these churches still kept in contact with him. When Lin and Barbara returned to Gallup in 1981 he still worked at the church especially FBC Children's Church and then when East Aztec Mission started he volunteered as the music director for 20+ years.
During his time in Farmington, NM he was blessed by the birth of his two daughters Crystal and Melody. Lin would tell you there is nothing like family. He was an amazing dad and loved being one. . He always put his family first. Barbara would tell you that the girls had their daddy wrapped around their fingers and he would not argue, neither would his girls. He enjoyed spending time with them and they him. They loved to scare him while he was reading his newspaper, or tickle his feet when he wasn't looking. He taught both of them how to fish, swing a bat, change a tire, and check the oil. He was a constant source of love and inspiration to both of them. As they grew up he became a guide and teacher to them. He worked hard to provide for them and took pride in being able to give them an education. While his girls had him wrapped around their little fingers he knew how to discipline them and had to several times especially with Melody who is so much like him that it was hard for them not to butt heads. Crystal was the one who was his tender heart and would rather not have to get the dad lecture that Jack made famous.
In 2001 Lin was blessed with a great Son-in-Law in Josh Turney when Crystal married him and brought him into the family. Josh and Lin had a lot of fun times together building things (don't ask Josh about the nail gun) working on cars, building things, making messes, and building things. Not long (4 years) after Josh and Crystal got married Lin was blessed with being a Grandpa when his oldest Grandson Timothy was born. Two years after that he was blessed again when Tobias was born.
He often said that while he did not have a lot of money he was one of the richest men in the world because of his family. His favorite time of the year was when the family took their annual camping trip to Vallecito Lake, CO. He would swim in the freezing cold lake water with his girls and dogs and never not have a grin on his face even if his lips were turning blue. The mountains and the lake were his recharging time. He'd spend the day by the lake or in it when he was younger, fishing, or feeding the chipmunks. The nights he'd spend by the fire singing and worshiping the lord. That week was his week to be free.
Lin retired from UNM-Gallup in August of 2019 and got to spend more time in his garden and green house. He loved projects and had many but enjoyed doing wood work and building things.
Lindsey Lee Comer went to be with the Lord October 26, 2020.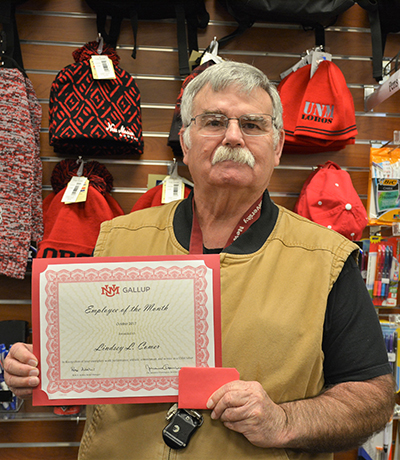 Lindsey Lee Comer
---
Remembrances
---
Explore more Faculty & Staff options:
Assessment  Assembly Ops. Committee Faculty Assembly  FPDC  Staff Council Online Memorial