Marilee Petranovich
Public Relations
1962-2019
Marilee Petranovich, 57, passed away peacefully at home on September 1, 2019 after a battle with cancer.
She was born on May 22, 1962 in Baltimore, Maryland. She made friends all across the country as she and her family lived in Maryland, North Carolina, Minnesota, Texas, and Alaska before settling in Gallup, NM in 1973. She graduated from Gallup High School in 1980 and then from the University of New Mexico in 1984 with a degree in psychology. When her first child was born she decided to be a stay-at-home mom and spent the next 18 years dedicated to loving, teaching, and helping her three kids grow.
She then felt called to become a Lobo once again and started to work at the UNM-Gallup branch where she remained for many years, most recently working as the Senior Public Relations Specialist.
Always aspiring to learn more and serve the UNM community, she became a UNM student once again and graduated with a Masters in Educational Leadership in 2016.
In addition to her love of UNM, Marilee also enjoyed biking, exercise classes, knitting, cross-stitching, cooking, reading, and spending time with family.
She is survived and missed dearly by her husband of 34 years Steve, son Sean Petranovich, daughter-in-law Christine Petranovich, daughters Kaitlin and Colleen Petranovich, parents Jim and Meg Johnson, brother Jay Johnson and his wife Lavern, grandson Owen, as well as several nephews, nieces, and cousins. She eagerly anticipated the arrival of her first granddaughter later this fall.
Marilee had a love for life and a deep faith in God that was apparent in the light, positivity, and kindness she radiated everywhere she went.
A funeral mass was held at Sacred Heart Cathedral on Saturday September 7 at 11:00am. Father James Walker officiated. A reception followed at UNM-Gallup.
In lieu of flowers the family has asked that gifts be made to the UNM Comprehensive Cancer Center Women's Health Fund in Marilee's name. Gifts in memory can be made to:
UNM Foundation
Two Woodward Center
700 Lomas Blvd NE
Albuquerque, NM, 87102
- Kaitlin Petranovich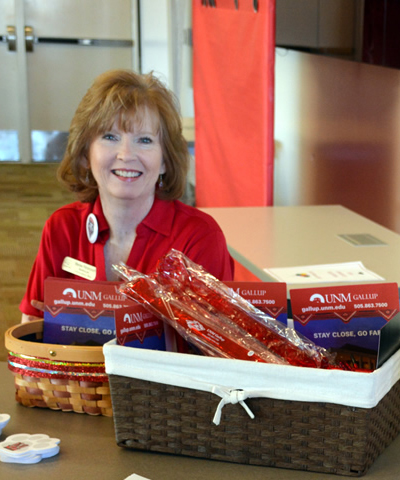 Marilee Petranovich
---
Remembrances
From Carmen Wellborn: I had the pleasure to work with Marilee for 7 years; every single day was a joy to work with her. She was the most positive, respectful, cordial and vibrant person I have ever known. More than my supervisor, she was a mentor and a friend. She will be always in my heart. I will miss her. Prayers for Marilee and her family.
---
Explore more Faculty & Staff options:
Assessment  Assembly Ops. Committee Faculty Assembly  FPDC  Staff Council Online Memorial