UNM-GALLUP STUDENTS PARTICIPATE IN SUMMER RESEARCH PROGRAM, PREPARE CONFERENCE PRESENTATIONS.
Students gain valuable field and research experience, studying the Bonnet Carre Spillway in New Orleans.
Categories: Students Faculty Staff Community
---
August 7, 2020 - In the spring of 2019, a flood lasting several months greatly impacted the city of New Orleans and prompted the opening of the Bonnet Carre Spillway to protect the area. The diverted floodwaters constructed a large deposit in the spillway, exposing much larger issues the area faces—where vast portions of the Mississippi River Delta are rapidly disappearing due to subsidence, dwindling sediment supply, and rising sea levels.
By the winter of last year, the National Science Foundation had awarded a team of scientists—including Dr. Antoinette Abeyta from UNM-Gallup—a $200,000 grant to advance the understanding of the hydrodynamic controls on the sedimentary architecture of floodplain deposits and to bolster models that predict the dynamics of basin filling at the outlets of sediment diversions using various hydrodynamic variables. The NSF grant also supported the implementation of new models for inclusive undergraduate geoscience research.
"The science is really neat," says Dr. Antoinette Abeyta, assistant professor of Earth Science at UNM-Gallup. "Rivers naturally migrate and move around the landscape. Areas where the river is active, it deposits sediment. Areas where the river is not active start to sink. When human society engineered the river to stay in place, the Mississippi River Delta started to disappear at a rate of about one football field per hour. This is important to society for several reasons, including the protection of these areas against coastal storms and sea-level rise—and this being the home of about 20 percent of fisheries and 30 percent of estuaries in the United States. The New Orleans region also houses the nation's primary source of oil and gas production, rice production, and one of the largest ports in the world."
To study these issues—and provide research opportunities to undergraduates students—Dr. Abeyta traveled with eight UNM-Gallup students to New Orleans in November 2019 to join forces with three other universities (University of New Orleans, Denison University, and Georgia Southern University) to collect data and study the Bonnet Carre Spillway.
This important field experience provided these UNM-Gallup students with hands-on learning and invaluable networking opportunities with other students and researchers. "These research experiences for undergraduates (REUs) are a common program used to recruit and retain students underrepresented in the sciences; typically, by offering a 10-week immersive summer research opportunity," Dr. Abeyta explains. "These programs usually require students to relocate for two months to another university, which can be inaccessible for a variety of reasons. Last year, we redesigned this REU program to allow students to do research in their home community and on campus. Due to the COVID-19 pandemic, we had to quickly move to a fully remote model for these students."
Dr. Abeyta goes on to explain that she feels fortunate to be in a position with her fellow project investigators to provide students with support and career opportunities in this difficult time. "While we are limited to digital work, the students have done a terrific job and accomplished a great deal of work," she adds.
UNM-Gallup student research projects include:
Bobbi Padilla & Elliot Redhouse
Analyzing satellite images to measure the amount of sediment deposited after a flood using a software for spatial analysis. Bobbi and Elliot are correlating this to the hydrographic data to estimate of how much sediment is accumulated in diversion channels.
Astrid Gonzaga
Modeling depositional patterns along the spillway to estimate flood conditions. The size of the sand deposited is based on how fast the water is moving. Astrid is transferring to UNM main campus in this fall to continue her education in Civil Engineering.
Kiera Redhouse
When sand is deposited in these spillways, they have distinctive patterns that can be used to interpret what sort of object created the pattern and the conditions of the water at the time. Often, geologists tend to disagree on interpretations. Keira is using eye-tracking software to understand what features people to interpret the deposits.
Martina Smiley
Hurricane Katrina has permanently displaced many residents in Louisiana. Many of the flood control efforts focused on physical structure are on dams and levees, but Martina finds that people are often left out of the equation. Without investing in communities, another hurricane could create another displacement of people.
Douglas Benally
Microplastics are small pieces of plastic that end up in our waterways and can even found in our rain. Douglas is working on building educational modules that can be used that will teach about microplastics. This project will collect samples around the country to map out how much plastic is accumulating in the land.
Phillip Rodgers
A McKinley Academy student, will be starting his research in the fall.
Students from the other three universities who are partners in this research are also concluding research on modeling of flow conditions, mapping out stratigraphic features, subsurface features, analyzing organic carbon, and an anthropological survey of conducting survey during the time of COVID.
The core goal of this program is to foster diversity in the geosciences by eliminating economic and social barriers to participation in research. The geosciences has the lowest rate of diversity in all the sciences, where only eight percent of graduate degrees in geoscience are granted to individuals who are Black, Latin, or Native American.
"Our entire field team for this project was 54 percent female and 34 percent from underrepresented racial and ethnic groups. This is double the rate for women in geoscience and four times the rate for minority groups in geoscience. For UNM-Gallup, our field team was 50 percent female and 88 percent from underrepresented groups."
The entire research team will be presenting their research at the Geological Society of America Annual Meeting, originally to be held in Quebec, Canada. Due to health and safety concerns, the conference has been moved online.
For more information on this important project, please visit the following links:
Denisonian Article (On Student Trip to Bonnet Carre Spillway)
For campus updates and information, please visit gallup.unm.edu.
UNM-Gallup Contact:
Dr. Antoinette Abeyta
UNM-Gallup
abeytaant@unm.edu
Follow project updates on twitter #BonnetCarre2019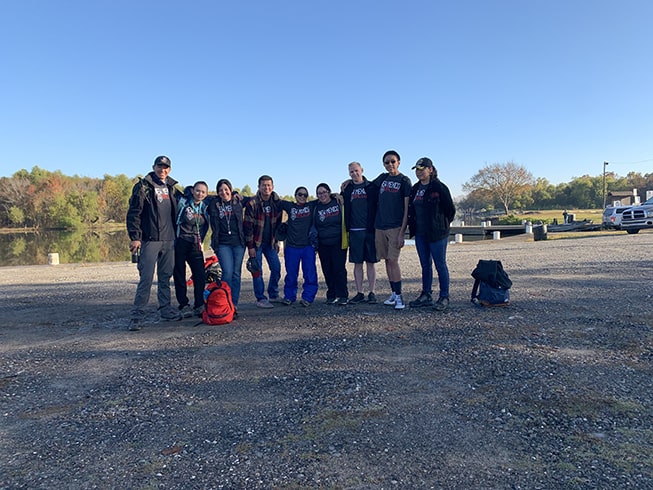 UNMG students traveled to New Orleans, Louisiana, in November 2019 to conduct a geological survey. The study is to understand the flood deposits left from the second largest flood on record for the Mississippi River. L to R is Elliot Redhouse, Keira Redhouse, Bobbi Padilla, Douglas Benally, Astrid Gonzaga, Antoinette Abeyta, Tyson Bond, Phillip Rodgers, and Martina Smiley. Photo was taken near Lake Pontchartrain, New Orleans, Louisiana
---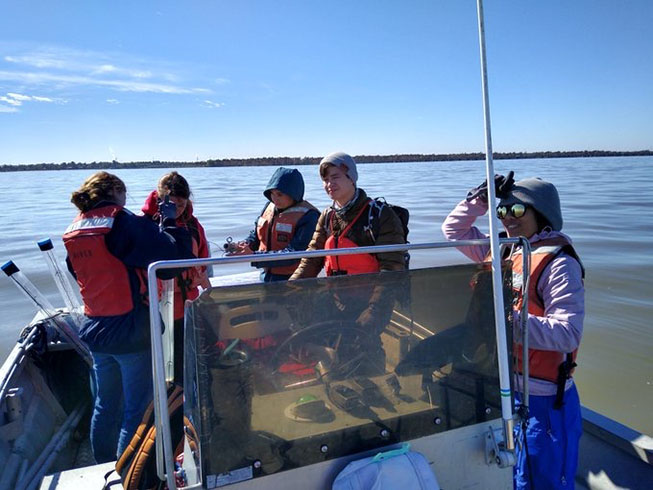 On Lake Pontchartrain, core samples were collected from the lake to examine how far the sediment traveled in the 2019 flooding event. From L to R is Laura Lapham (Denison), Eva Jorn (Denison), Caroline Mlaska (Georgia Southern), Sawyer Hilt (Denison), and Astrid Gonzaga (UNMG).
---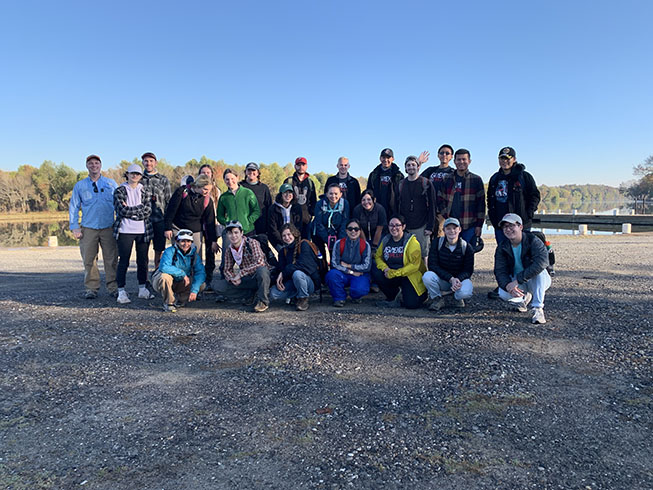 The Bonnet Carre Research Team is made up of 4 universities – University of New Mexico Gallup, Denison University, University of New Orleans, and Georgia Southern University.
---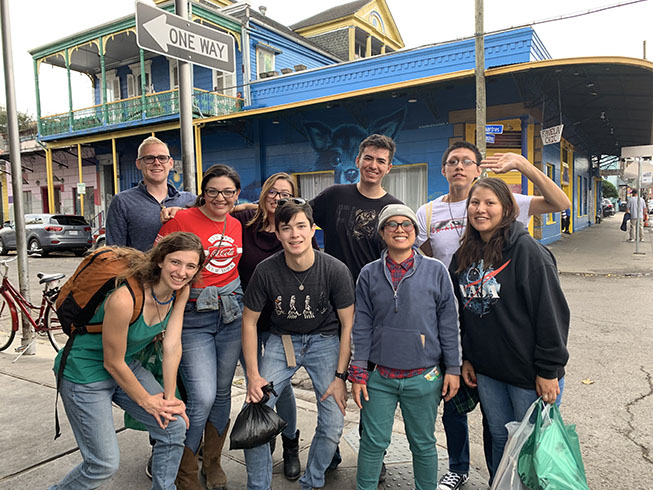 Students had a chance to explore New Orleans Culture, pictured here on the French Quarter. L to R (top) Tyson Bond, Bobbi Padilla, Keira Redhouse, Elliot Redhouse, Phillip Rodgers, L to R (bottom) Laura Lapham (Denison), Sawyer Hilt (Denison), Astrid Gonzaga, and Martina Smiley
---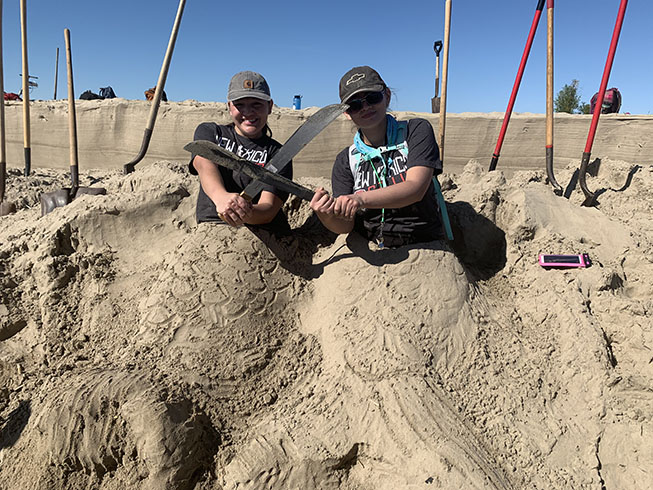 UNMG Students Bobbi Padilla and Keira Redhouse take a break from digging trenches to play in the sand. The machetes are used to create a flat planar surface on the sand for photo analysis, which can be seen in the background.
---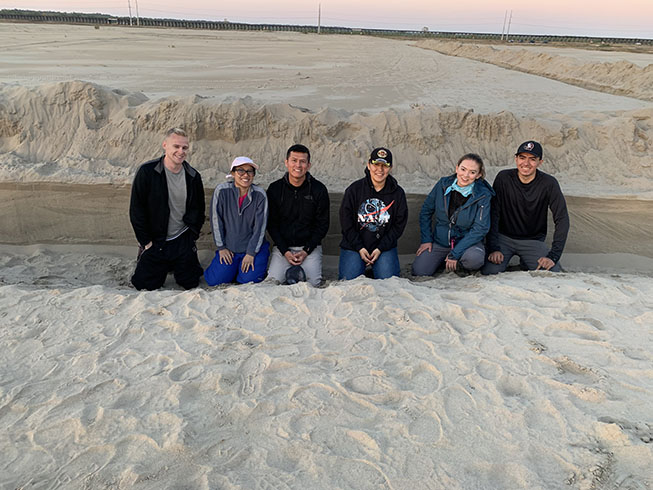 UNMG students pose behind a trench they dug to examine the deposits left by the flood. The patterns in the sand explain the conditions of the flood and are crucial to restoration work on the Mississippi River Delta. L to R: Tyson Bond, Astrid Gonzaga, Douglas Benally, Martina Smiley, Keira Redhouse and Elliot Redhouse.
---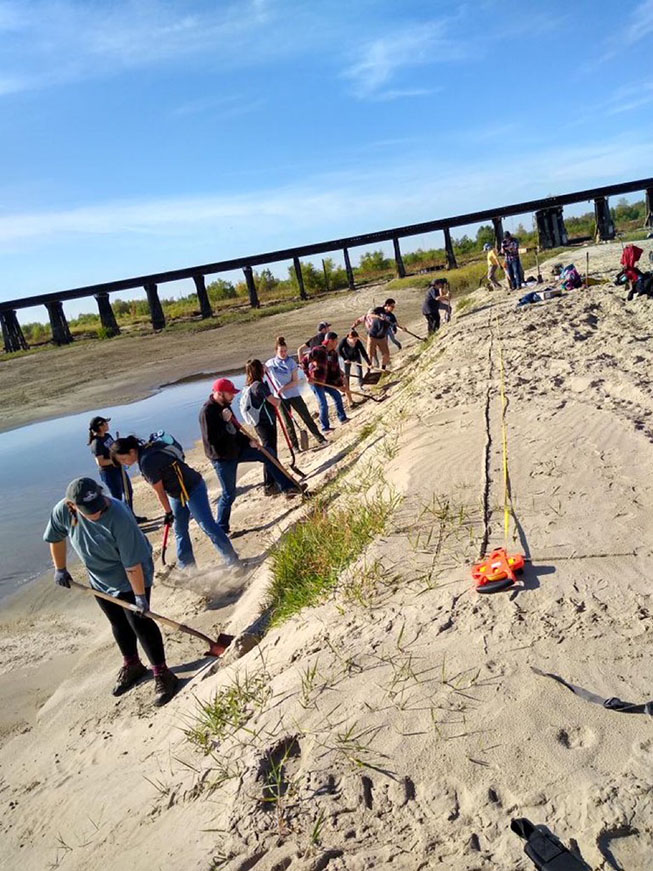 The Bonnet Carre Spillway exists between the Mississippi River and Lake Pontchartrain in New Orleans, LA and is used to divert floodwater away from the city. Students are digging into the sand to expose the stratigraphic patterns observed in the sand. The process is like slicing into a cake, where slicing it open exposes the layers inside.
---
Latest News
---
The University of New Mexico - Gallup
705 Gurley Ave.
Gallup, NM 87301
(505) 863-7500
---