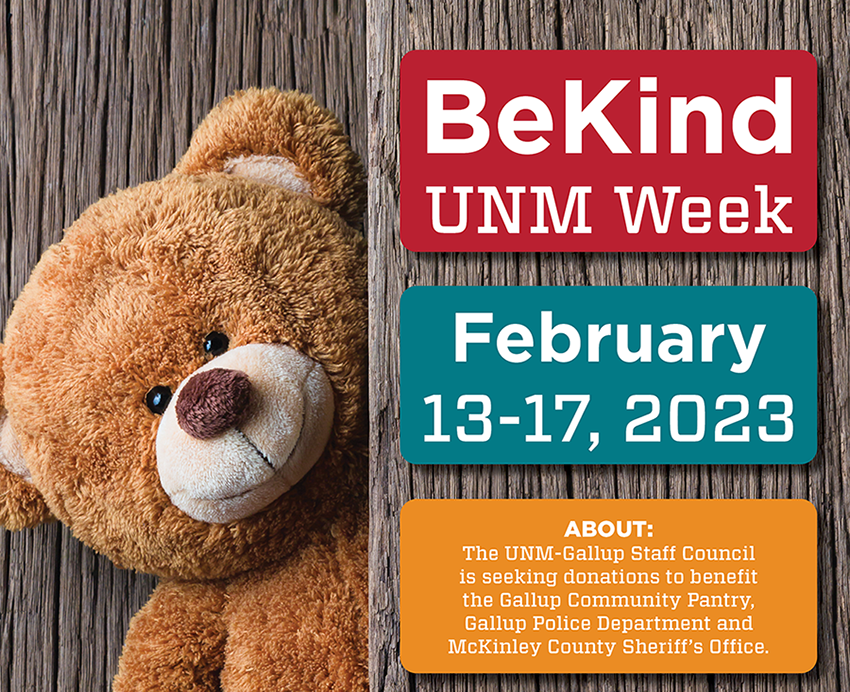 UNM-Gallup commits to random acts of kindness
Categories: Students Faculty Staff Community
---
By Richard Reyes | Tuesday, Feb. 7, 2023
Staff Council organizes donation drive to benefit local food pantry, law enforcement
GALLUP, N.M. — The University of New Mexico-Gallup will be hosting a donation drive Feb. 13-17 as part of BeKind UNM Week to collect food items for the local pantry and stuffed animals for local law enforcement.
The newly formed UNM-Gallup Staff Council is seeking donations of canned food items; non-perishable food items; and easy-to-open, small-serving food items for children and homeless individuals to be given to the Community Pantry. The council is also seeking new or gently used stuffed animals to be given to the Gallup Police Department and McKinley County Sheriff's Office for use when dealing with children experiencing traumatic situations.
"I really hope that this event gets people on campus to slow down to stop and think about how they can be a help to someone else," Staff Council President Frank Sanchez said. "If we all kind of embrace those little things, I think it will strengthen us as a community and show Gallup that we want to be part of the community again."
Sanchez said it was important to do something kind for local law enforcement because officers have a tough job and sometimes have to deal with difficult situations involving vulnerable children.
"If we can be a help to them and help them to maybe soften the situation a little bit for a child, that's just the right thing to do," he said.
Sanchez also noted how desperately needed the Community Pantry's services were during the COVID-19 pandemic.
"I think we all need to never forget how critical they were when Gallup was hurting," he said. "And, now, it's time, if we can, to give back. We need to make sure it's there if, God forbid, there is another need."
The Staff Council is organizing the donation drive in conjunction with BeKind UNM Week, an event celebrated annually at the Albuquerque campus during National Random Acts of Kindness Week, which is Feb. 14-20.
At UNM in Albuquerque, the Office of Student Affairs and the BeKind UNM Committee organize a popular Kindness Carnival plus two Teddy Bear Toss events during a men's and women's Lobo basketball game. Food items and monetary donations are collected for the Lobo Food Pantry, while teddy bears are collected for the Albuquerque Police Department and Albuquerque Fire Rescue.
BeKind UNM Week has been celebrated annually in Albuquerque for more than 15 years.
Sanchez said this will be the first time UNM-Gallup is jumping on board and participating in BeKind UNM Week.
"I think it's important for us as Staff Council to provide opportunities for people to kind of step out of their little silos in the campus," he said. "Events like this help people to come together in the campus environment, and we really want to encourage that."
Sanchez said the event is also an opportunity for UNM-Gallup personnel to reach out beyond the campus boundaries and re-integrate with the wider Gallup-McKinley County community.
He noted that UNM-Gallup tends to be seen as an out-of-the-way institution, and it became even more isolated during the COVID-19 pandemic.
"We're showing that we're ready to be part of the community, to engage with the community, to reach out to them, and for them to come and be part of what we're doing as well," Sanchez said.
He added that the Gallup branch joining an effort spearheaded by the Albuquerque campus is also a way of fulfilling the UNM 2040 goal of being "one university."
"President (Garnett) Stokes' whole plan is to create this one university feeling, this one university community," Sanchez said. "I think anytime that UNM-Gallup can jump in and do a similar activity to what is happening at main campus, it just really helps to show that we're embracing that goal as well because we buy into the fact that this is going to make it better for everyone."
The UNM-Gallup campus will have several BeKind Boxes located at multiple sites on campus, including Gurley Hall, Zollinger Library, the Student Services and Technology Center, and the Nursing Careers Building.
Donations can be dropped off at any of the BeKind Boxes on campus during the week of Feb. 13-17.
Then UNM-Gallup staff will deliver the donations to the Community Pantry, Gallup Police Department and McKinley County Sheriff's Office.
Information: Contact Richard Reyes at 505-863-7542 or richardreyes12@unm.edu.
Latest News
---
The University of New Mexico - Gallup
705 Gurley Ave.
Gallup, NM 87301
(505) 863-7500
---