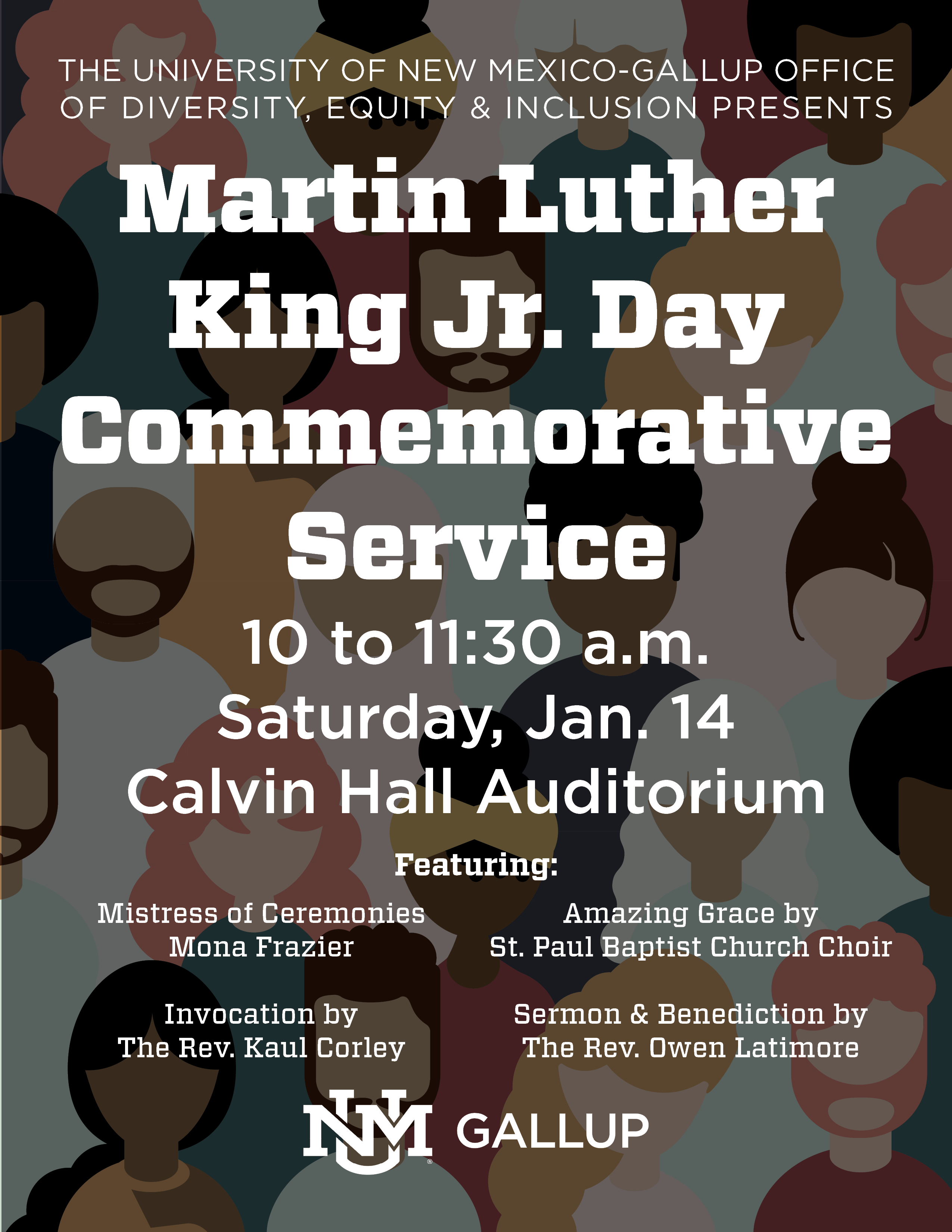 UNM-Gallup to host Martin Luther King Jr. Day Commemorative Service
Categories: Students Faculty Staff Community
---
By Richard Reyes | Thursday, Jan. 12, 2023
Jan. 14 event aims to celebrate slain civil rights leader's legacy, inspire more action and progress
GALLUP, N.M. — The University of New Mexico-Gallup will host a Martin Luther King Jr. Day Commemorative Service from 10-11:30 a.m. Saturday, Jan. 14, in the Calvin Hall Auditorium on campus.
The event will feature guest speakers from Gallup and Albuquerque as well as live choral music from a local church group in honor of King, a civil rights activist and Baptist minister who was prominent during the American civil rights movement until he was assassinated April 4, 1968. There will also be a reception with light refreshments. The event is free and open to the public.
The commemorative service is being presented by the UNM-Gallup Office of Diversity, Equity and Inclusion in partnership with the Charlie Morrissey Education Center.
"This Saturday's event is a celebration of Dr. Martin Luther King Jr. and what he meant to the nation — and to everyone, actually, because his idea was in terms of fairness and justice and morality," said L.D. Lovett, the director of the UNM-Gallup Office of Diversity, Equity and Inclusion.
Lovett said the event is meant to bring King's dream back into focus, referring to the "I Have a Dream" speech that King delivered during the Aug. 28, 1963, March on Washington.
Lovett said the event is also meant to acknowledge the strides that have been made on racial issues and civil rights in the United States since King died, but also to recognize there's still progress to be made and action to be taken.
"In order to actualize what Dr. King was saying, it takes more from those of us who are here," Lovett said. "It's more than dreaming about it. We have to take positive steps to move to the next level."
The program for the commemorative service Saturday includes remarks from UNM-Gallup officials, including Chancellor Sabrina Ezzell, Dean of Instruction Dan Primozic, and Lovett himself.
The event will also feature the Rev. Kaul Corley, of St. Paul Missionary Baptist Church in Gallup, who will deliver an invocation, and the Rev. Owen Latimore, of the Grant Chapel AME Church in Albuquerque, who will deliver a sermon and benediction.
The St. Paul Baptist Church choir will also perform a couple of songs live and lead attendees in a procession.
Gallup resident and community volunteer Mona Frazier, who is a former member of the NAACP, will serve as mistress of ceremonies during the event.
Frazier, who is retired, volunteers with the St. Paul church and has organized several local MLK Day celebrations over the years to promote King's legacy and keep his dream alive.
"Dr. King had to fight all of his life, fighting for equality not only for African Americans, but for all people," Frazier said. So much is going on with violence nationwide, but Dr. King's celebration brings everyone together. … For us to become a really good community, we all have to work together to fight the things that are holding us back from being one community."
Frazier said she's eager about the upcoming event and UNM-Gallup's involvement as an inclusive community organization.
Lovett said it's important for UNM-Gallup to host this type of event even though the African American population in the area is small.
"For us as a higher education institution, it's a part of who we are, and that's why we should do it," he said. He added, "Our goal is to educate, and that's a big part of DEI. We can verbalize our commitment to diversity, equity and inclusion, but if we don't have the resources and it's just verbal, we're going to be in the same place where we started."
Lovett stressed that affecting change is about taking action, particularly when it's difficult.
"For me personally, it means change can happen," he said. "Dr. King proved that. But also, it means you have to be able to put yourself on the frontline, make yourself a target, be willing to do and say the right things. … Personally, for me, it means we could do better. We are doing much better, but we're far from where we could be."
The Martin Luther King Jr. Day Commemorative Service is scheduled from 10-11:30 a.m. Saturday, Jan. 14, in the Calvin Hall Auditorium on the UNM-Gallup campus, located at 705 Gurley Ave.
The UNM-Gallup campus will be closed Monday, Jan. 16, in observance of Martin Luther King Jr. Day. While it is a national holiday, Martin Luther King Jr. Day is also designated by Congress as a national day of service during which people are encouraged to engage in service activities.
For more information about the commemorative service or the Office of Diversity, Equity and Inclusion, Lovett can be reached at 505-863-7540 or llovett@unm.edu.
Latest News
---
The University of New Mexico - Gallup
705 Gurley Ave.
Gallup, NM 87301
(505) 863-7500
---