UNM-GALLUP CAPITAL IMPROVEMENT PROJECTS FUNDED THROUGH GO BOND C ENTER PRELIMINARY FACILITY ASSESSMENT AND ARCHITECTURAL PLANNING PHASE
Categories: Students Faculty Staff Community
After the 2020 GO Bond C passed overwhelmingly by voters in November, UNM-Gallup is proceeding with capital improvement projects that will provide essential renovations and upgrades to campus buildings.
BY LEE LAMB
---
March 25, 2021 - New Mexico voters overwhelmingly supported passage of the General Obligation (GO) Bond C during the 2020 election in November, providing $155 million in funding for more than 60 projects at colleges and universities throughout New Mexico. UNM-Gallup submitted a bond request during the last election cycle and will receive $3 million of available GO Bond funding to support capital projects on campus, including renovations to the Center for Career Technology and Education (CCTE).
The overall aim of UNM-Gallup's bond request is to support programs at the university that are relevant to the community and grow enrollment in career technology programs that are essential to the campus and are in demand by students seeking viable careers in automotive technology, construction technology, welding technology, allied health, mechanical industrial technology, emergency medical services, and other workforce training disciplines identified as emerging and high-growth industries.
Built in the 1980s, the current CCTE facilities are inadequate in both size and functionality. While funding an entirely new building requested during the previous GO Bond cycle was denied, current funding approved in November 2020 by voters moves UNM-Gallup toward its overall campus improvement goals to provide facilities that can serve as learning labs, educational centers, and as hubs for job training in the greater Gallup and McKinley County area.
FACILITY ASSESSMENT & ARCHITECTURAL PLANNING
The leadership team at UNM-Gallup is now working through a preliminary facility assessment and architectural planning phase with UNM's Planning, Design, and Construction office and SMPC Architects to scope out potential options and costs related to potential capital improvement projects on campus funded by GO Bond C.
At the start of this month, architects, engineers, and designers presented three options to UNM-Gallup that are now being discussed and explored among campus administrators, faculty and staff, and community stakeholders:
Scenario 1: Upgrade in Place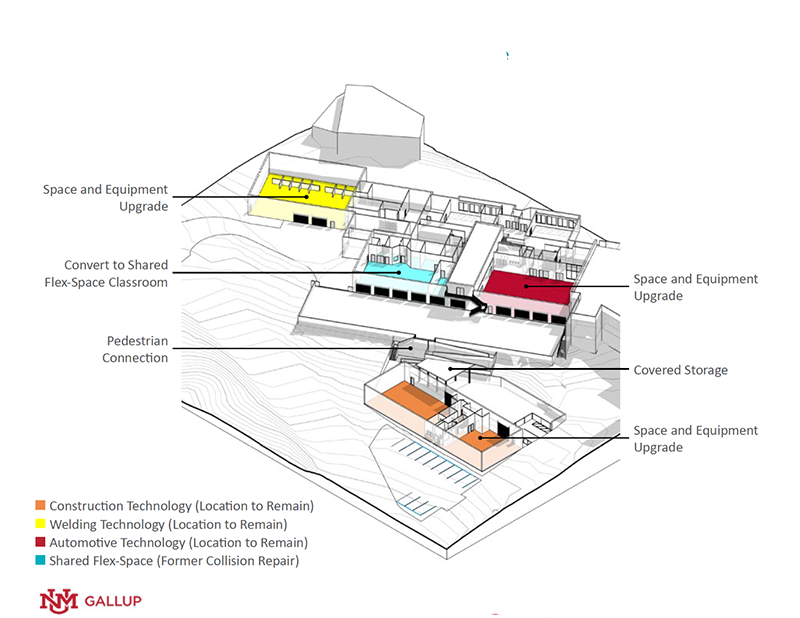 The first scenario being considered is an upgrade to the existing CCTE building with current programs—construction technology, welding technology, and automotive technology—remaining in their current locations within the building.
Renovations in this option would include space and equipment upgrades, a partial conversion of existing space to a shared flex-space classroom, and other amenity upgrades including covered storage and a pedestrian connection.
Scenario 2: CT Relocation and Upgrade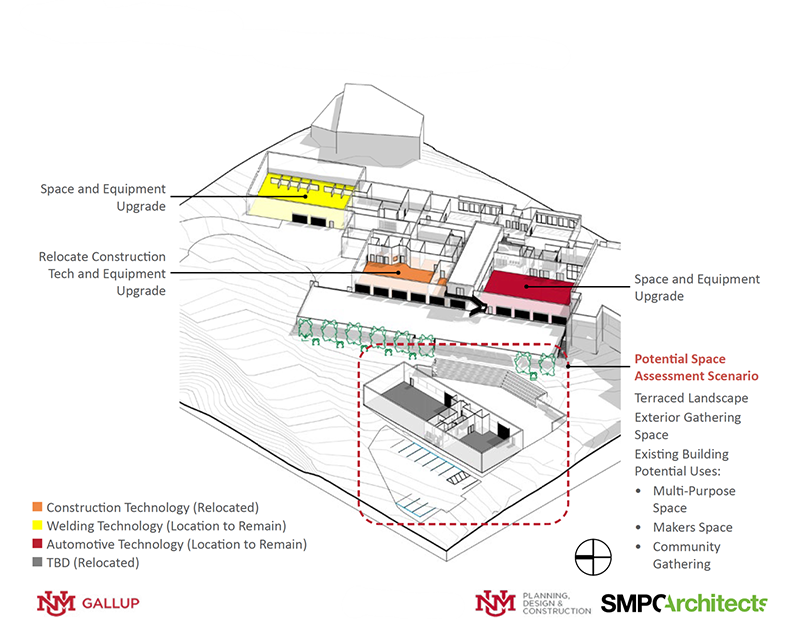 The second scenario under consideration provides additional upgrades to the existing CCTE building and relocation of the construction technology program. Potential upgrades in this scenario include a terraced landscape and exterior gathering space, other multi-purpose spaces, a makerspace, and other options for community gatherings.
Scenario 3: Gurley Hall Renovation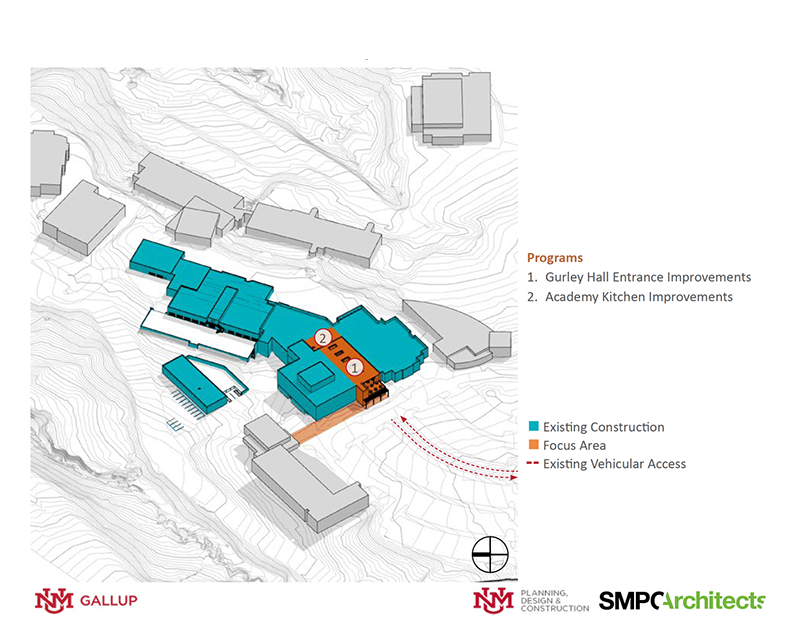 A third and potentially larger scenario in scope includes improvements and renovations to Gurley Hall, including renovations of the Academy Kitchen into a Servery Food Hall concept, the addition of a Learning Stair with larger break-out spaces at the entrance, and an added connection to the basement. In this scenario, the second-story façade would be redesigned along with the addition of an exterior patio.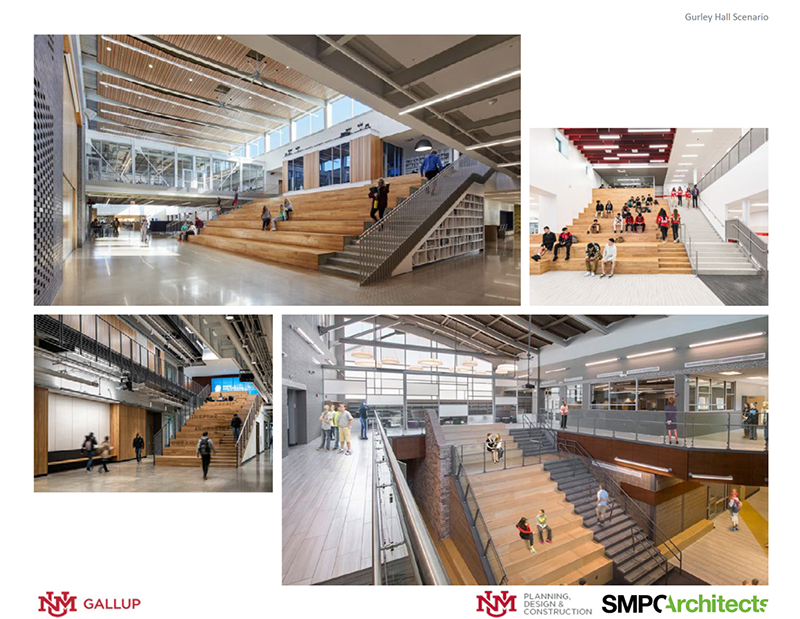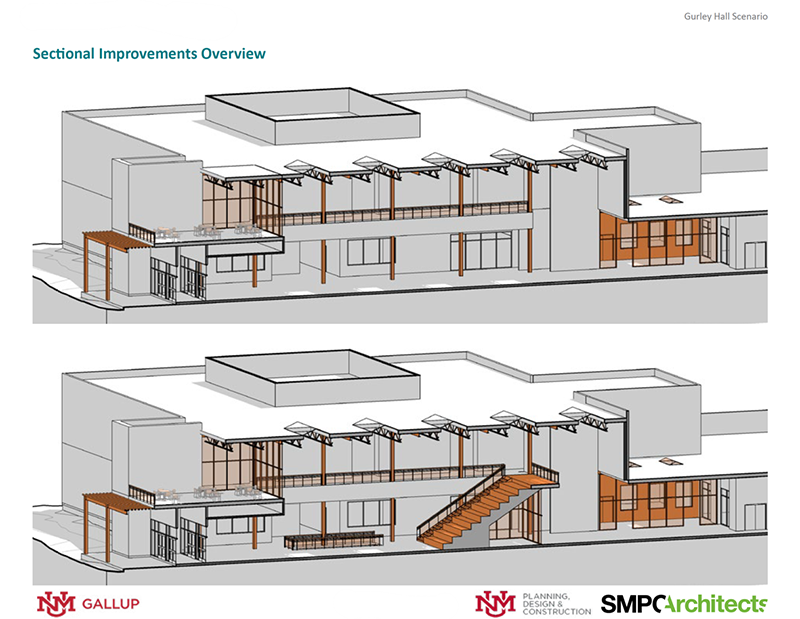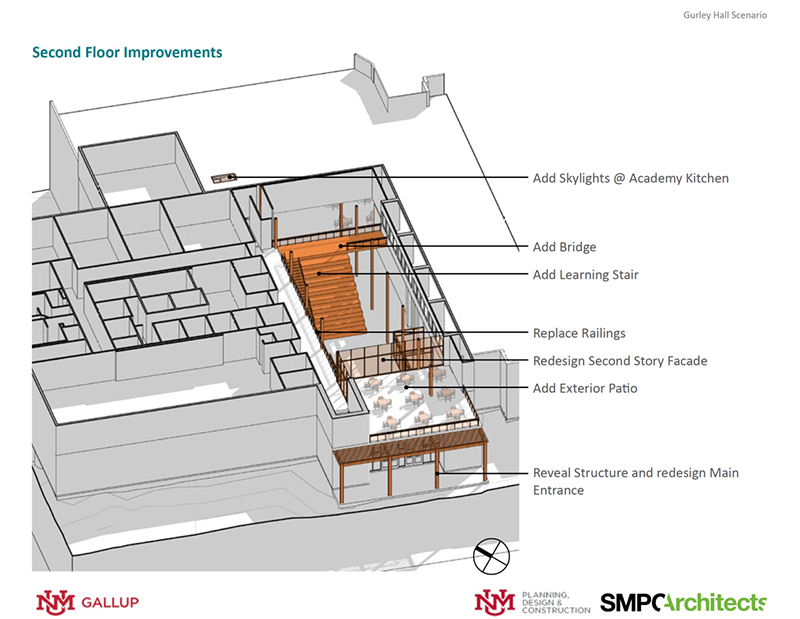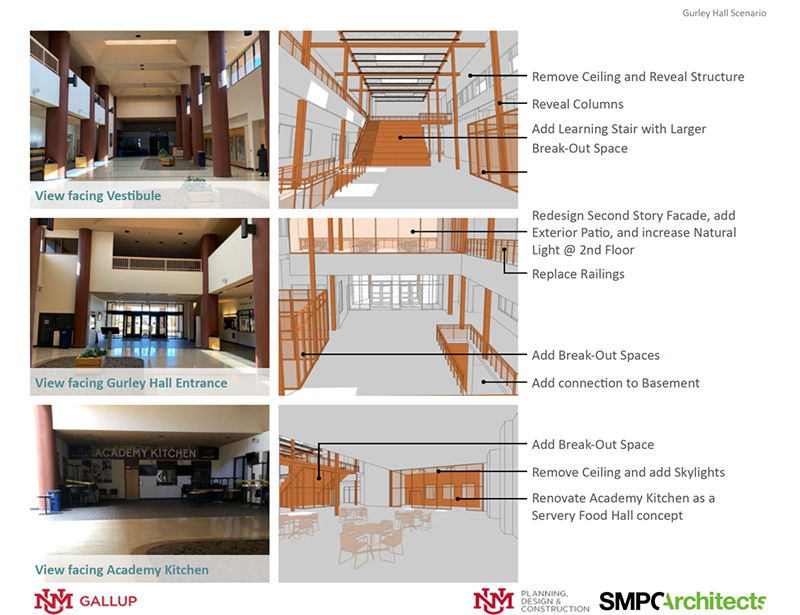 NEXT STEPS
These far-ranging, impactful capital improvement projects that provide much-needed renovations to UNM-Gallup facilities will now undergo a cost analysis of all three scenarios presented to campus leadership, who in turn will present these scenarios to the public during the upcoming UNM-Gallup Local Advisory Board meeting schedule for April 20th, and a presentation during an upcoming Faculty Assembly meeting. The university is also in the process of establishing a Staff Council, and presentations will be provided to personnel at a later date once the council is established.
"We are so grateful to New Mexico voters for their support of GO Bond C and these essential renovations that are supportive of higher education and workforce training here in our local community," said Dr. James Malm, UNM-Gallup's chancellor and professor of business.
"As our campus explores these potential scenarios, we will also look at other funding options available to us beyond the GO Bond in order to move forward with the best possible option for our campus. The final determination may be to only renovate and update the current CCTE building or to include renovations to Gurley Hall in our efforts this year as well," he added.
The public is invited to provide comment on these projects at the upcoming Local Advisory Board meeting on April 20th, but must sign-in prior to the meeting with the recording secretary at lambc@unm.edu
ABOUT UNM-GALLUP:
Chartered as a community college more than five decades ago, UNM-Gallup operates under the aegis of the University of New Mexico as Gallup's branch campus. Although our priority has always been to serve the community as a two-year college, our association with UNM has allowed us to be flexible and stretch as the need arrives. As the largest of the four UNM branch campuses, we serve approximately 2,200 students.
ARTICLE CONTACTS:
Lee Lamb, Sr. Public Relations Specialist
Robert Griego, Director of Business Operations
---
Latest News
---
The University of New Mexico - Gallup
705 Gurley Ave.
Gallup, NM 87301
(505) 863-7500
---