UNM-GALLUP, GALLUP MCKINLEY COUNTY SCHOOL DISTRICT PARTNER TO EXPAND STUDENT WI-FI ACCESS DURING COVID-19 PANDEMIC
Categories: Students Faculty Staff Community
---
May 13, 2020 - The University of New Mexico-Gallup announced today that it has recently partnered with the Gallup McKinley County School District (GMCS) to offer students Wi-Fi access from school facility parking lots located throughout the county. This partnership has expanded Wi-Fi access at 14 GMCS facilities with additional locations to be added with increased capacity in the coming weeks.
"There's a huge digital divide between us and the rest of the state. We had to figure out a way to get students who are doing online coursework—such as credit recovery—access to internet services. UNM-Gallup was facing a similar problem and looking for ways to service their students. This was one area we could partner together," said Mike Hyatt, GMCS Superintendent. "We've made wireless internet accessible to students by pushing it out to the parking lots of our schools. For some students, access is still 20 to 30 miles away from their home. However, we've worked together to find a quick solution that best supports our students during this time."
Students are encouraged to view a map of available GMCS facilities where Wi-Fi access is currently available at https://www.anyroam.net/node/6609, which will be updated as additional locations become available. To access Wi-Fi in these GMCS facility parking lots, students will connect to EDUROAM with their UNM NetID and password
"We are so grateful to GMCS for allowing many of our shared students to access Wi-Fi from the parking lots of these school facilities—closer to our students' homes—which will support their continued studies through the summer as this pandemic persists," said Dr. James Malm, UNM-Gallup's chancellor. "Our summer term starts on June 1 with all courses offered online. This will support our remote instruction efforts and keep students engaged in coursework until a return to campus is possible."
About UNM-Gallup
Chartered as a community college more than four decades ago, UNM-Gallup operates under the aegis of the University of New Mexico as Gallup's branch campus. Although our priority has always been to serve the community as a two-year college, our association with UNM has allowed us to be flexible and stretch as the need arrives. As the largest of the four UNM branch campuses, we serve approximately 2,200 students.
---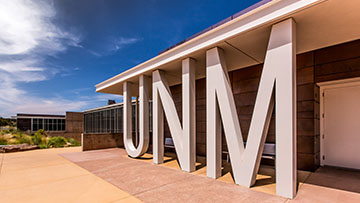 ---
Latest News
---
The University of New Mexico - Gallup
705 Gurley Ave.
Gallup, NM 87301
(505) 863-7500
---