UNM-Gallup Set to Launch Virtual Diversity Series, Focus on Campus and Organizational Culture
A previously scheduled Diversity Summit was canceled in late April due to the COVID-19 Coronavirus pandemic. UNM-Gallup is now transitioning to building an online diversity series, conversations, and resource library to benefit our campus and organizational culture.
Categories: Students Faculty Staff Community
---
May 6, 2020 - Efforts are underway at UNM-Gallup to forge ahead with ongoing campus diversity efforts despite having to cancel various initiatives—including an on-campus diversity summit—that began in the early part of this year due to the then emerging COVID-19 Coronavirus pandemic. What was a previously scheduled Diversity Summit—with speakers and experts scheduled to deliver a series of presentations on topics relevant to diversity—will now become a series of diversity discussions, articles, and interviews to be posted on the UNM-Gallup website and social media. The Diversity Summit is rescheduled for mid-spring 2021.
"We have a focus on diversity at UNM-Gallup and its impact on our campus and organizational culture," said L.D. Lovett, who serves as the director of diversity, equity, and inclusion at the university. "Diversity in the world, society, and higher education is a reality and must be addressed in an open and civil manner. Through serious ongoing discussions, we are considering its impact on education, on behavior, the workforce, and on how we treat each other."
Lovett explained that this focus on diversity at UNM-Gallup will help to identify not only the issues, challenges, and problems relevant to diversity on campus, but will also provide solutions and a plan of action to solve any issues and recommendations that arise from holding a serious dialogue in the coming months. Additionally, Lovett said that he will bring a focus of a new diversity initiative through an extension of his personal philosophy, background, and experience
"Even with our world turned upside down with this pandemic, we are actively engaging our community to bring diversity to the forefront of our conversations. We want to continue to attract a diversity of students, personnel, and faculty to UNM-Gallup who not only share in their experiences, but also builds on our current climate to better prepare our students for an ever-increasing diverse global work environment," explained Lovett.
Defining Diversity
In its simplest form, diversity is defined as the differences and similarities between people. Diversity can be real or perceived differences between people. These differences include but are not limited to race, gender, sexual orientation, religion, and socioeconomic status. In addition, in a diverse world, people are able to acknowledge the differences that exist among individuals.
"The concept of diversity encompasses acceptance and respect. It means understanding that each individual is unique and recognizing our individual differences and similarities," Lovett said. "It is about understanding each other and moving beyond simple tolerance to embracing and celebrating the rich dimensions of diversity contained within each individual. Especially on the college campus, we create an environment to explore our differences and similarities in a safe, positive, and nurturing environment."
Until a return to campus is possible, these conversations around diversity will continue virtually within UNM-Gallup with invited subject-matter experts, faculty and campus representatives, and external members of the local community providing their insight and analysis on how the campus approaches this issue now and into the future. Topics to be explored through this virtual diversity series will include but is not limited to organizational culture, implicit bias, curriculum, community engagement, diversity mindset and stereotyping—among other topics of interest.
"I am so pleased to have L.D. bring his knowledge and expertise to lead our diversity and inclusion efforts," said Dr. James Malm, chancellor of UNM-Gallup. "He has a rich history of working collaboratively with local community representatives and college faculty to forge partnerships in diversity. These efforts will begin with a serious discussion on campus diversity and will include a prioritization of diversity in our campus culture and attracting a diverse workforce and student body to work and study at UNM-Gallup."
Please stay tuned to our Website and social media for further updates in the coming weeks as we transition our previously scheduled Diversity Summit into a virtual diversity conversation series. More information, articles, and diversity resources will be regularly posted on a dedicated UNM-Gallup webpage for easy reference and access to updates.
For more updates and information, please visit gallup.unm.edu.
UNM-Gallup Contact for Diversity Initiative:
L.D. Lovett Ed. S.
Leadership and Higher Education
Lecturer III, Director of Diversity,
Equity, & Inclusion
llovett@unm.edu
---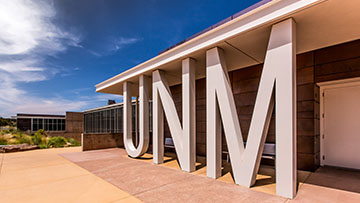 ---
Latest News
---
The University of New Mexico - Gallup
705 Gurley Ave.
Gallup, NM 87301
(505) 863-7500
---