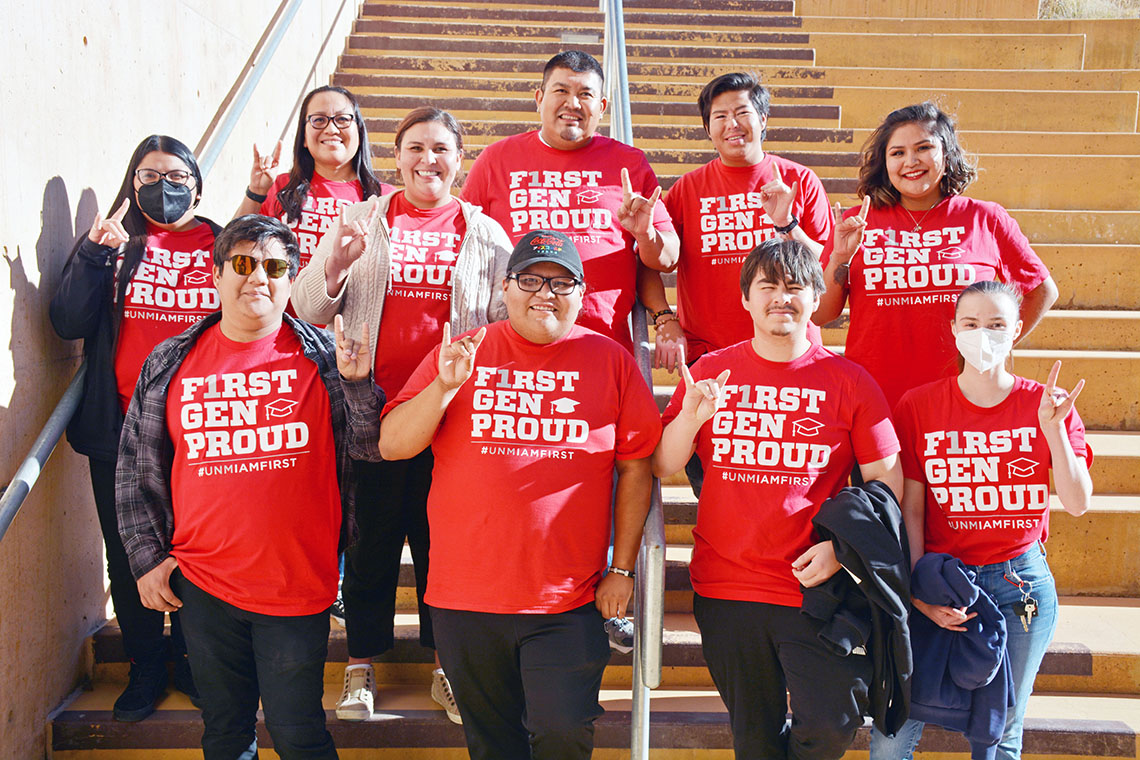 Ten of the University of New Mexico-Gallup's first-generation students pose for a group photo while wearing First Gen Proud T-shirts on the steps outside the Student Services and Technology Center in commemoration of First-Generation College Celebration Day on Nov. 8, 2022.
First-generation UNM-Gallup student defies doubters, works toward associate degree
Categories: Students Faculty Staff Community
---
By Richard Reyes | Thursday, Nov. 17, 2022
Dewight Leupp pursues bachelor's in communications so he can help spread awareness about disabilities
GALLUP, N.M. 'Äē When Dewight Leupp was in high school, a teacher told him he wouldn'Äôt amount to anything because he has a disability, but he has big dreams for the future and is working to prove that teacher wrong.
Leupp, of Twin Lakes, New Mexico, is in his third year pursuing an associate degree in Liberal Arts at The University of New Mexico-Gallup. He then wants to transfer to The University of New Mexico in Albuquerque to get a bachelor's degree in journalism and mass communications with a concentration in multimedia journalism, plus a minor in Native American studies.
'ÄúIf I'Äôm able to get a communications degree, I hope to work close with the (Navajo) tribe and from there go into spreading awareness of disabilities,'ÄĚ he said. 'ÄúThere'Äôs hardly any programs for that.'ÄĚ
Leupp is considered to be legally blind, but he has some usable vision 'ÄĒ though at a certain distance, things become blurry or fuzzy.
As a Navajo tribal member himself, he feels that the Navajo Nation and other Native American tribes lack programs and resources for individuals with disabilities because of cultural taboos, so he wants to help eliminate that stigma.
He wants to use his education to in turn educate the general public about blindness and other impairments 'ÄĒ that way people like himself don'Äôt have to go out of their way to explain things to others.
'ÄúJust recently, last summer, I took a trip to Atlanta for SkillsUSA,'ÄĚ he said. 'ÄúI had my white cane at the airport and I was using it for standing there while I was waiting in line for my meal, and someone asked, 'ÄėWhat'Äôs that stick for?'Äô So I had to explain to them.'ÄĚ
As a result of being identified legally blind, Leupp said he's not allowed to do certain things, such as drive a vehicle.
Dewight Leupp, a first-generation college student pursuing an associate degree in liberal arts, poses for a photo on The University of New Mexico-Gallup campus Nov. 16, 2022.
Since Leupp and his family live 16 miles away from town, his father, who works in Gallup, drives him to the branch campus every morning.
That's just one of the ways his family supports him.
Leupp said his parents were a major driving force in his decision to pursue a higher education. He said his mom and dad did not complete high school themselves, but they encouraged him to go to college.
'ÄúParticularly my mother highly emphasized education because she believes the old proverb that getting a college degree will get you a better job,'ÄĚ Leupp said.
Another source of educational motivation for Leupp was a speaker at his high school who had autism and a doctorate.
'ÄúThat was kind of an inspiration, knowing that someone with a form of disability 'ÄĒ a non-physical disability but still considered a disability 'ÄĒ was able to achieve the highest level of a degree,'ÄĚ he said.
As the first person in his family to go to college, Leupp is considered a first-generation college student.
He joined about 30 other students, faculty and staff at UNM-Gallup Tuesday, Nov. 8, to commemorate First-Generation College Celebration Day, which honors first-gen students whose parents did not complete a four-year college or university.
Asked whether he experienced any barriers as a first-generation college student, Leupp said he was lucky and didn't encounter any. The New Mexico Commission for the Blind and Visually Impaired helped him make the transition from high school to college.
Then, when he first enrolled at UNM-Gallup, he received help from the branch campus' Accessibility Resource Center. He said the staff would check in on him and offer counseling sessions to make sure he was on track with his school work.
Leupp said he chose to enroll at UNM-Gallup because of the convenience 'ÄĒ it was close to home and affordable for him. He said he is enjoying his experience at the branch campus and has found it to be beneficial.
'ÄúI'Äôve gotten to know some great professors, made some good friends, joined some interesting clubs 'ÄĒ watched some fall 'ÄĒ but overall the experience has been pretty good,'ÄĚ he said.
Leupp hopes that he inspires other family members to pursue their higher education as well. He has two younger brothers 'ÄĒ one who is going into the military and another who is uncertain about his next steps.
'ÄúTo me it'Äôs kind of exhilarating because I'Äôm going to be the first person in my family to have a degree and then I hope that I won'Äôt be the only one,'ÄĚ he said.
He admitted that college has turned out to be tougher than he expected though. He said it really hit him during his second semester when he had a heavy course load, but he persists.
'ÄúI want to continue to get my degree,'ÄĚ he said. 'ÄúI want to set an example for my extended family, especially my younger cousins. One did apply for ASU (Arizona State University), but her scholarship fell through and her dorm situation wasn'Äôt sorted out. Everything flopped on her. So I just want to set an example. Even though it doesn'Äôt work out, you can still achieve.'ÄĚ
Leupp said his decision to enroll in college was also a sort of defying act against that one high school teacher who said he wouldn't amount to anything.
Now, he's on his way toward an associate degree while also serving as president of UNM-Gallup's SkillsUSA Chapter. He won a gold medal in the job interview category at New Mexico's 2022 State Leadership and Skills Competition. He then placed sixth at the national competition.
In 2023, he's planning to compete in the job interview category again as well as the prepared speech category.
For more information about the UNM First Gen Proud program, please visit firstgen.unm.edu.
Latest News
---
The University of New Mexico - Gallup
705 Gurley Ave.
Gallup, NM 87301
(505) 863-7500
---