About
UNM-Gallup Associate of Science in Medical Laboratory Technology
The Medical Laboratory Technology Program is accredited by the National Accrediting Agency for Clinical Laboratory Sciences (NAACLS 5600 N. River Rd, Suite 720 Rosemont IL 60018-5119; ph: 773.714.8880; fx: 773.714.8886; info@naacls.org; www.naacls.org) since 1986. Articulation for the Bachelor's Degree is in place. A student successfully completing the program is eligible to take the American Society for Clinical Pathology (ASCP) Board of Certification examination.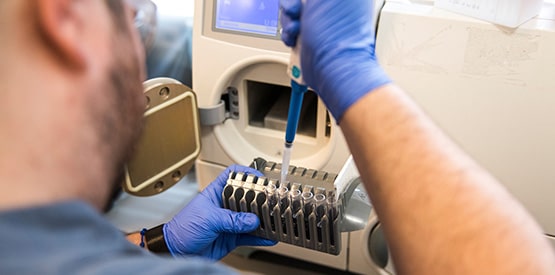 ---
Mission Statement
The University of New Mexico - Gallup Medical Laboratory Technology Program develops lifelong learners to be clinically competent and culturally sensitive professionals delivering diagnostic testing services to clients within our rural health care setting.
While the program is relatively small, its presence has prevented a chronic shortage of laboratory professionals in our area while providing much needed employment opportunities for residents of the region.
The MLT Program aims to continue helping students fulfill their potential and become productive members of society, thereby improving the quality of life for both themselves and the community they serve.
What will you learn?
MLT students will learn to:
Collect blood samples by venipuncture and capillary puncture methods; learn the proper collection and criteria for rejection of other clinical specimens.
Operate laboratory equipment, such as microscopes, centrifuge, cell washers, incubators, analyzers.
Analyze clinical specimens, such as blood, urine, and other body fluids, and record results.
Test compatibility of patient and donor blood samples for transfusions by identifying the blood type, screening for unexpected antibodies, crossmatching, etc.
Describe, identify and quantitate blood and body fluid cell types, both normal and abnormal.
Perform microbial culture of clinical specimens and antibiotic susceptibility tests.
Interpret results and findings of laboratory tests and procedures (but not provide clinical diagnosis; physicians must correlate lab results with other clinical findings)
Work independently and collaboratively with classmates/co-workers/instructors/supervisors.
Employment Opportunities
There's a very high demand for MLTs in our local and surrounding areas. Many of our graduates find employment immediately after graduation. Most were employed in hospitals, others were in medical and diagnostic laboratories, physicians' offices, and federal government.
In 2016, medical laboratory professionals held about 335,700 jobs in the US. (www.bls.gov)
---
Starting Salaries
The starting salary for MLTs vary significantly depending on the location. Please see the following websites for more information:
---