FIRST-PLACE DESIGN FROM DESIREE SMITH
Desiree Smith is enrolled in UNM-Gallup's Center for Career & Technical Education's design and digital media program.
Categories: Students Faculty Staff Community
---
May 5, 2020 - When Miyamura High School senior Desiree Smith graduates this spring, she'll have an incredible honor to add to her design portfolio: First place winner of the New Mexico SkillsUSA pin design contest. Smith is enrolled in UNM-Gallup's Center for Career and Technical Education's design and digital media program, and her winning design was selected by her SkillsUSA peers.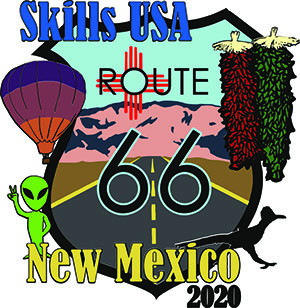 Desiree Smith's winning pin design.
"My design symbolizes many things that are unique to New Mexico—roadrunners, hot air balloons, beautiful mountains, chile ristras, Route 66, and aliens," explained Smith. "The roadrunner represents the state bird of New Mexico; the hot air balloon symbolizes the balloon rallies that take place in and over New Mexico; the mountains show the stunning sunsets we have in our state when they glow red in the evening; chile ristras proudly show our state's red and green chile, giving us our state question, "Red or Green?"' Route 66 stands for the "mother road" that runs through our state; and finally, the alien represents the mystery of New Mexico."
Her pin has been fabricated and was to be worn by all New Mexico SkillsUSA members at the National Leadership Conference and Skills competition in Louisville, Kentucky, prior to its cancellation due to the Coronavirus pandemic. Traditionally, SkillsUSA members trade their state pins with members from all 50 states and territories—and all New Mexico SkillsUSA representatives would have worn t-shirts with Smith's design printed on them.
About Skills USA –
Skills USA is a partnership of students, teachers, and industry working together to ensure America has a skilled workforce. SkillsUSA helps each student excel and provides educational programs, events, and competitions that support career and technical education in the nation's classrooms.
---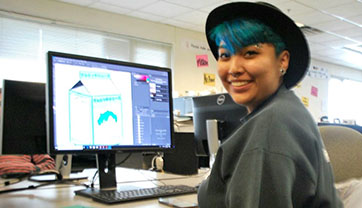 ---
Latest News
---
The University of New Mexico - Gallup
705 Gurley Ave.
Gallup, NM 87301
(505) 863-7500
---