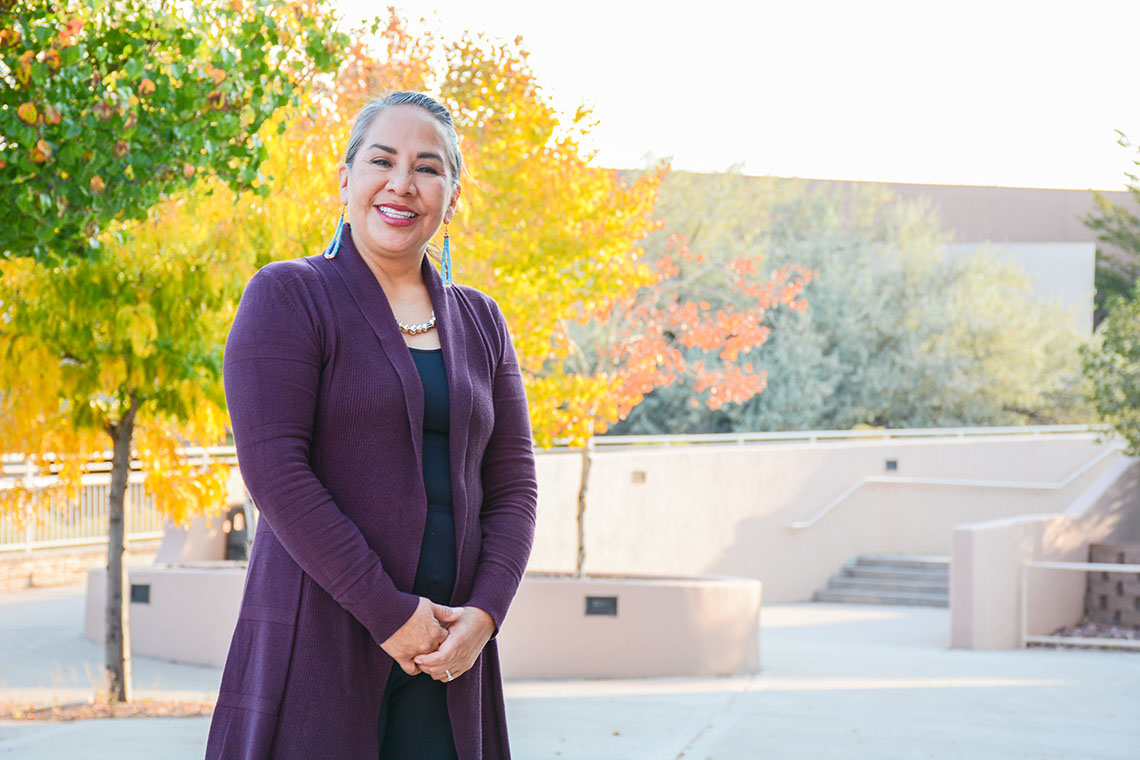 Cyndi Jarvison, the director of the Small Business Development Center at UNM-Gallup, poses for a photo at the branch campus Oct. 17, 2023.
SBDC director bids farewell to UNM-Gallup
Categories: Students Faculty Staff Community
---
Cyndi Jarvison steps down after 8 1/2 years of helping small businesses at branch campus
By Richard Reyes, Thursday, Oct. 19, 2023
GALLUP, N.M. — The director of the Small Business Development Center at The University of New Mexico-Gallup is stepping down after 8 ½ years of helping local entrepreneurs.
Cyndi Jarvison will work her last day as the center's director Friday, Oct. 20, as she prepares to take on a new career opportunity.
"As I bid farewell to this remarkable chapter of my professional journey, I find myself reflecting on the limitless memories and the tremendous growth we've all shared together," Jarvison stated in an email to her colleagues at UNM-Gallup. "It is with mixed emotions that I express my gratitude for the camaraderie, support, and inspiration each of you have brought into my life. Working alongside such a dedicated and passionate team has been an honor and joy."
As the director of the SBDC at UNM-Gallup, Jarvison's mission was to build strong entrepreneurs through one-on-one confidential counseling and through workshops.
Jarvison said she amassed a little more than 900 active clients in the Gallup-McKinley County area throughout her tenure.
'My clients are like my family'
One recent success story she shared was that of Cowboy Iron Gym in Gallup. Jarvison said she initially helped the owners, Chad and Tiffany Robinson, with the basic steps of starting a business and finding a storefront on the east side of town after they secured financing through a local bank.
Jarvison also helped them overcome a few obstacles along the way to their grand opening, which turned out to be a success.
With Jarvison's guidance, the Robinsons even won second place in the 2023 Navajo Nation Economic Summit's Business Plan Competition.
"My clients are like my family," Jarvison said. "I'm just so proud of them. I give them something, and they run with it. They come back and ask questions, I fill them with knowledge, and they take off and do great things. Next thing you know, they're opening a store and employing people."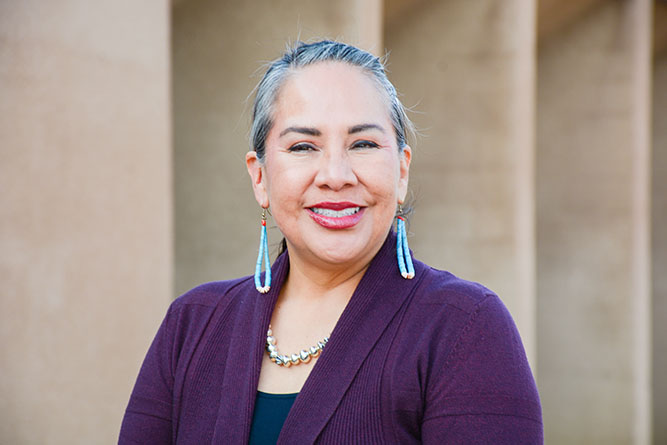 Cyndi Jarvison, the director of the Small Business Development Center at UNM-Gallup, poses for a photo at the branch campus Oct. 17, 2023.
Jarvison herself earned several awards and recognitions over the years, including the SBDC Excellence and Innovation Center Award plus Minority Small Business Champion of the Year from the U.S. Small Business Administration New Mexico District Office in 2020.
She also received plenty of positive feedback from her colleagues and clients.
"Cyndi's colleagues in local and state economic development have regularly complimented her efforts and vocalized their appreciation of her work as the SBDC director," UNM-Gallup Chancellor Sabrina Ezzell said. "Importantly, Cyndi's clients wrote to me directly to share their appreciation of her and to let me know what a positive experience they had while getting their new businesses off the ground."
'I'm a Lobo'
Not only did Jarvison work at UNM-Gallup for several years, but she actually started her academic journey at the branch campus. Jarvison, who is originally from Pine Springs, Arizona, and currently lives in Window Rock, Arizona, obtained her associate's degree in business administration in 2005.
She then earned a bachelor's degree in business marketing management with a minor in political science from the UNM Anderson School of Business in Albuquerque in 2007. Recently, Jarvison graduated with her Executive Master of Business Administration from Anderson in August 2022.
"I'm a Lobo," she said. "I'm part of the wolf pack. I actually started here at the branch my first year, and it was a totally different environment. They were so supportive. It really gave me a great launch to go forward. … When I came to work here, I always remember this is where I started my journey in higher education, and it's always a good feeling. So, this is my home."
Jarvison said her new job will be totally outside of what she's been doing as the SBDC director, but she will be able to use a lot of the project management skills she acquired from the Anderson MBA program.
Cyndi Jarvison, the director of the Small Business Development Center at UNM-Gallup, advises a client in her office at the branch campus June 7, 2023.
With Jarvison's departure from UNM-Gallup, the New Mexico SBDC has identified other satellite offices in the region to cover her clients and take care of them in her absence.
Jarvison said the SBDC plans to hire a new director for the center at UNM-Gallup. The center also has a vacancy for a small business advisor.
"Gallup and the surrounding area have been lucky to have such a passionate, knowledgeable and caring person in that role," Ezzell said. "Cyndi was an asset to our community, and she will be greatly missed."
For more information about the SBDC at UNM-Gallup, please visit www.nmsbdc.org/locations/gallup/.
Latest News
---
The University of New Mexico - Gallup
705 Gurley Ave.
Gallup, NM 87301
(505) 863-7500
---