Nancy López
Associate VP, Division for Equity and Inclusion
University of New Mexico-Main Campus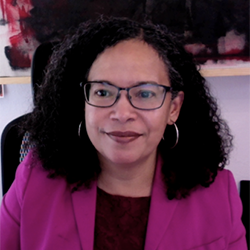 Dr. Nancy López is professor of sociology, University of New Mexico. Dr. López co-founded/directs the Institute for the Study of "Race" and Social Justice and she is the founding coordinator of the New Mexico Statewide Race, Gender, Class Data Policy Consortium (Visit: race.unm.edu). Dr. López currently serves as Associate VP for the Division of Equity & Inclusion. Her scholarship and teaching are guided by the insights of intersectionality--the simultaneity of tribal status/settler colonialism race/structural racism, gender/heteropatriarchy, class/capitalism, ethnicity/nativism, sexuality/heterosexism as systems of oppression/resistance across a variety of social outcomes (education, health, employment, wealth and housing) and the importance of developing contextualized community-driven solutions that advance justice. Dr. López has been recognized for her contributions to engaged scholarship through the American Sociological Association William Foote Whyte Distinguished Career Award for Sociological Practice and Public Sociology. Dr. López has received funding from the National Institutes of Health that resulted in an edited volume, Mapping "Race": Critical Approaches for Health Disparities researchers where she talks about "pregnant while Black" and the racialized gendered social determinants of health. She is also coined the term "street race" as a measure of race the myth or race as biology, genetic ancestry or culture and instead focuses on race as social relationship of power that is not just about your personal identity (See conversation.com essay entitled the Census Bureau Keeps Confusing Race and Ethnicity over 17K readers, and publications in Sociology of Race and Ethnicity and Critical Public Health Journals). Her current research funded by the WT Grant Foundation and the Hewlett Foundation includes a mixed method study in three research practice partnerships that examines the role of ethnic studies curriculum and culturally relevant pedagogy in reducing complex intersectional inequalities in high school (Albuquerque, San Francisco and Los Angeles. She has served on over 75 PhD/MA committees and she given over 130 seminars on at national conferences, invited lectures and community gatherings. She a Black Latina, the New York City-born daughter of Dominican immigrants parents who didn't have an opportunity to go beyond a second grade education but were rich in funds of knowledge and cultural wealth. She grew up in public housing and graduated from a de facto segregated public high school. Spanish is Dr. López's first language; she participated in Head Start and Upward Bound both federally funded programs designed to equity lifts for those who have historically been excluded from educational opportunities.
Conference Topic:
Diversifying the Curriculum/conversation
Description:
A Workshop Presentation: Are you interested in creating a universitywide/collegewide "U.S. & Global Diversity & Inclusion" Requirement at your 2-year, 4-year institution? This interactive workshop will discuss the challenges and possibilities of creating a diversity, equity and inclusion requirement at your institution. We will share the process at the University of New Mexico. For more information and for materials such as the syllabi checklist with learning outcomes, please visit: diverse.unm.edu and click "U.S. & Global Diversity & Inclusion Requirement.
Other Speaker on this presentation: