What is Lobo Academy?
A summer bridge program to help students get a jump start to college! This is a fast-paced and dynamic summer bridge program that helps newly admitted college students make that transition to college life. While in Lobo Academy, students will work toward improving their placement levels in Math and English while also gaining a college credit by enrolling in a 3 credit class called FYEX 1110. We work with students to build up their skills for college success and provide knowledge about campus resources while helping them feel at home in our TRIO/ Student Support Services program on the UNM Gallup campus.
Lobo Academy is an in-person, six (6) week program that will be delivered through various teaching methods such as in-person, Blackboard Learn and Zoom. Lobo Academy will offer a mix of academic and social activities to build a strong academic foundation.
Lobo Academy students receive the following benefits and many more:
Enroll in a 3 credit hour FYEX 1110 class
Receive FREE classes in English and Math
Receive financial aid (based on eligibility) for FYEX 1110
Join the TRIO/Student Support Services program to increase your chance of success
Learn about guided pathways and career guidance
Become familiar with the campus, the staff, and the faculty
Virtual travel to a four-year university and learn about transfer options
Mentoring and Academic Advising
Have FUN!!!
---
The application process for the TRIO/SSS Lobo Academy:
The 2022 Lobo Academy Program will begin June 6 through July 11, 2022
Be admitted to University of New Mexico- Gallup and intend to enroll fall 2022
Complete an UNMG TRIO/SSS Lobo Academy application

Please note: before your application can be reviewed for the TRIO/SSS Lobo Academy program, you must complete and sign and return the Lobo Academy TRIO Application and attach 2020 federal taxes to Kim Simms at ksimms@unm.edu

If you were required to report your parents'/guardians' income information on the FAFSA, they will need to submit their 2020 Federal Taxes. .

Complete the 2021-2022Free Application for Federal Student Aid (FAFSA) for summer aid.
Submit your all official high school transcripts
Note: Applicants selected to participate in Lobo Academy must be first generation college students from socioeconomically disadvantaged backgrounds and may have a documented disability (physical and/or learning).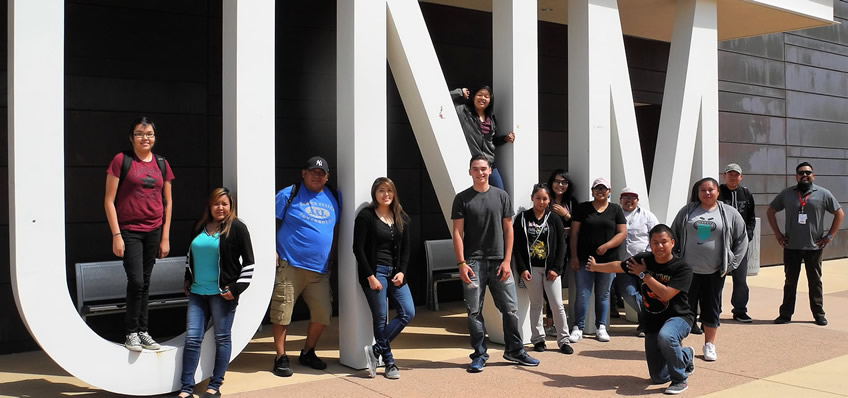 ---
Downloads